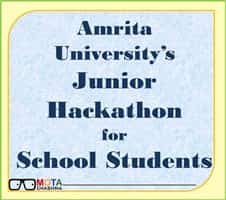 Amrita University's Junior Hackathon for School Students
About Junior InCTF
Amrita University is organizing Junior Hackathon for school students named as 'Junior Indian Capture the Flag (Junior InCTF)' which is the simplified version of InCTF, a national level annual ethical hacking contest.
Junior InCTF is a High school Hacking Competition for students of class 9 to 12, to develop their curiosity in the field of Cyber Security.
The registered students will be provided with the online material to prepare for the contest and after a period of 2 months, top 40 students will be selected for a One week long all-expense paid workshop.
About Junior Indian Capture the Flag (Junior InCTF)
In cyber security, Capture the Flag is a computer security competition designed to provide real world experience to the participants.
In an attack/defense style competition, each team has to defend their machine or a small network on an isolated network.
Junior InCTF will serve as an educational exercise which will give participants experience in securing a machine along with conducting and reacting to the sort of attacks found in the real world.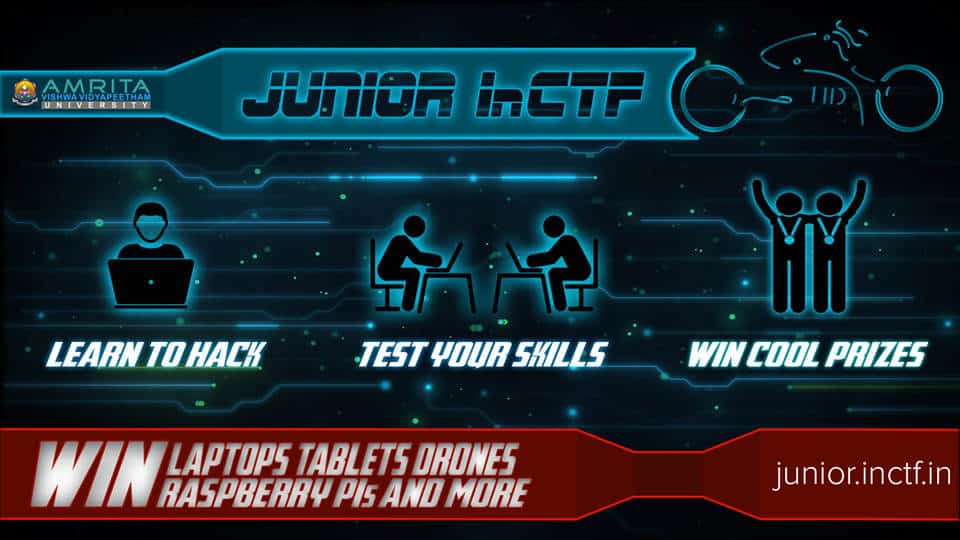 Subscribe for Regular Updates of Junior InCTF
Junior InCTF Eligibility Criteria
Gender
Both
Region
All India
Class/ Age
Class 9 to 12
Details

Nationality: The competition is for Indian citizens only.
Academic qualification: The applicant should be a student of class 9 to 12.
Participation: The Junior InCTF is open for Individual as well as Team participation.

Maximum number of team members is two.
Junior InCTF Reward
Junior InCTF Rewards
The winner of the Junior InCTF will get various prizes, the prizes includes:

Laptops
Drones/Mobiles
Tablet
Raspberry Pis
Books
Junior InCTF Application form and Process
Junior InCTF Application Process
The applications for the Junior InCTF will be made online and the students can register either in the form of Teams or Individual participants. The details of the application process are as follow:
Junior InCTF Selection Process
Junior InCTF Selection Process
The students will be prepared for the Junior InCTF, all the necessary training material is available on the website. The details of the process are as follow:
Online Challenges: During the contest period the participants will face various challenges. All the training material necessary for the competition will be available online. After a period of 2 months, Top 40 students will be shortlisted for a week long Workshop.
Workshop on Cyvber Security: The workshop will aim to enhance the Cyber Security skills of the shortlisted participants. The duration of the Workshop will be 7 days and all the expenses of the workshop will be taken care by the organizers.

The participants will be introduced to fundamental topics of computer security such as computer forensics, web application security, cryptography and Python programming.
The selection of the winners and distribution of prizes will be done during the Workshop.