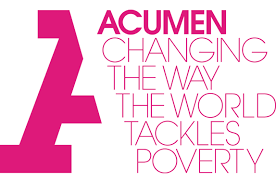 Acumen India Fellows Program 2016
About India Fellows Program
India Fellows Program every year brings together 20 emerging leaders from different regions, sectors, and socio-economic backgrounds in India.

The Regional Fellows Program is a one-year leadership development program designed to build the next generation of social leaders with the audacity to transform society and create a better, more inclusive world.
People from any sector can apply for the fellowship and they must be committed to ending poverty in their community through their work.

20 Fellows

are selected each year for each Regional Fellows program.

Applications are invited from citizens of the country/region across the world. This page in details deals with India.
Structure of the Regional Fellows Program

: The fellows remain in their jobs while taking part in five seminars, each lasting 5-8 days, throughout the year. The first seminar will be held in Q1 of 2017.

Seminar 1: Foundation of leadership

Seminar 2: Adaptive Leadership and Moral Imagination

Seminar 3: Financial & Operational Skills

Seminar 4: Learning Trip

Seminar 5: Leading into the Future
The program has a 100% attendance requirement, and those who cannot commit to this should not apply to the program.
What will happen in the seminars

The seminars give Fellows access to world-class speakers, trainers, and mentors who allow them to deepen their skills in leadership, social change, and innovation.
Modules to date have included: Good Society, Adaptive Leadership, Storytelling for Change, Human-Centered Design, Lean Startup, and systems thinking
The total in-person time commitment is about 30 days over the course of the year, plus travel time to the seminar locations.
India Fellows Program Schedule 2016


| | |
| --- | --- |
| Event | Date |
| Application Period | June 13, 2016 to August 1, 2016 |
| Telephone Interview | August 2016 |
| In Person Interviews | October 1, 2016 |
| Final Selection | December 2016 |
| Firest Seminar | Q1 of 2017 |
Subscribe for Regular Updates of India Fellows Program
India Fellows Program Eligibility Criteria
| | |
| --- | --- |
| Gender | Both |
| Region | All India |
| Class/ Age | Open to All |
| Details | The Fellows we seek are: |
India Fellows Program Reward
India Fellows Program Application form and Process
Steps for filling the Application Form
India Fellows Program Application Process 2016 can be made through both Online and Offline Mode. Candidate can fill their Application till August 1, 2016. They must read the application instructions carefully before filling the application Form.
Click Here to Apply Online
Download Application Form
Steps for filling the Application Form
Personal & Contact Information
Social Change Work
Work Experience
Resume Upload
Academic Experience
Awards & Recognitions
Referral Source
Essay Questions


What motivated you to start working in social change? What motivates you to keep going today? (200 words)
What will you bring and what do you hope to get from the Acumen Fellows community? (200 words)
What problem are you trying to solve? How is your approach addressing the root causes of this problem? (200 words)

Please describe the social problem your organization is focused on solving (for example, access to clean drinking water in rural villages), and why you believe that you are addressing the root cause of this problem.

What did you learn, about yourself, from your greatest failure? (200 Words)
Read Acumen's Manifesto. Tell us a story about how you've seen one line of the Acumen Manifesto play out in your own life. (200 Words)

Our Manifesto articulates the kind of leadership we aspire to. We hope that everyone in the Acumen community – our Fellows, our entrepreneurs, our staff – not only carries the Manifesto with them in their work, but applies it in all aspects of their lives.
Enclosures to be submitted along with the Application form
Background information
Resume/CV
Short & long answer questions
What makes a good application?
A good application is the one which is well-written, clear, and concise. All responses should answer the question as directly and succinctly as possible.
Submission of the Application Form


The duly filled in Application Form along with the above-mentioned enclosures has to be submitted online before August 1, 2016
India Fellows Program Selection Process
After reviewing all of the applications, a subset of candidates will be selected for 30- minute phone interviews to be conducted on August 2016
Following these phone interviews, our team will select a group of finalists who will be invited to attend a day-long in-person interview day called a "Selection Conference" will be held on October 1, 2016, in Mumbai
Once all candidates have been interviewed, the selection team will make a final decision
The first seminar of the program will take place in the first quarter of 2016.
India Fellows Program Address
203 Dheeraj Plaza
Hill Road, Bandra West
Mumbai, 400050, INDIA
India Fellows Program Contact Details
T: +91 (22) 6740-1500
F: +91 (22) 6740-1550