World Handwriting Contest 2014 has declared their winners and a young girl, Sworima Shakya,12 managed to awe the world with her exquisite & flawless handwriting. She was declared as the World Champ-PEN for the World Handwriting Contest 2014. Out of the 21 winners, 9 are from India and have won in various categories of the World Handwriting Contest.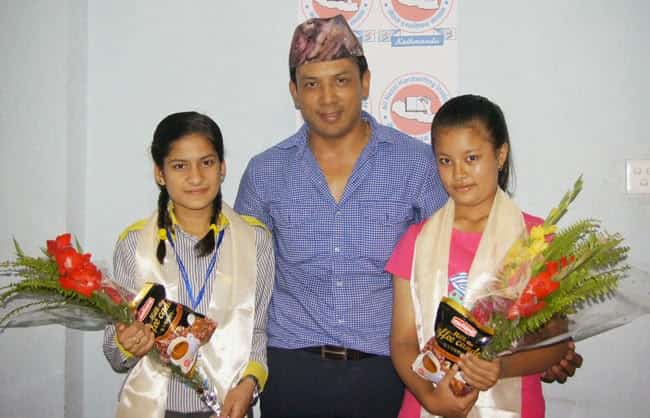 Saumya Shakya on the right- World handwriting Contest winner 2014
Shakya, a resident of Ombahal in Kathmandu, Nepal won first place in this year's competition in the under 13 categories for cursive- artistic handwriting and was also declared as this year's World Champ-PEN. She also secured second place in the same category in last year's competition. Ecstatic on making their country proud, Shakya, when interviewed, claimed to be very excited and surprised on hearing the results and solely attributed her hard work for fueling her victory. Vinod Tellaputta from Vijaywada, India has won first prize in age 20-64 years category in functional cursive handwriting, Rohit Bisht from New Delhi has won first prize in age 20-64 years category in artistic cursive handwriting, B. Kavin Kumaram from Tamil Nadu has won first prize in age 8-12 years category in functional handwriting manuscript and Shlok Mane from Mumbai has won first prize in age 7 years and under category in functional cursive handwriting.
This Annual competition is not gender or age discriminative and has five age categories, 1) Children ( below 8 years of age) 2) Pre-teens ( 8-12years ) 3)Teens(13-19) 4)Adults(20-65) and 5)Seniors ( 65 and above) under which the participants are judged. Contestants are required to apply by sending a sample of their hand writing to be considered for the actual competition.
The contestants are judged based on various criteria such as choice of layout and margin, spacing between letters and words, consistency of letter size, neatness, general appearance and spelling. These rigorous judging criteria make these winners even more worthy of our praise and acclaim for not only winning but also bringing to the fore a developing country like Nepal which struggles with its literacy rate and educational progress. Winning first prize for three times in the competition qualifies a participant to be bestowed with the title of "Lifetime winner". The 2015 contest will accept entries from January 1st 2015 to July 1st 2015. The 2014 contest saw 606 entries and the competition only looks forward to more participation, standing true to it's motto - " Every human has the right to write well"
World Handwriting Contest 2014 winners
| | | |
| --- | --- | --- |
| Category | First Place | Second place |
| Senior- Functional-cursive | Maryjane Grotting, USA | - |
| Senior -Functional-manuscript | - | - |
| Senior- Artistic-cursive | Barbarra Barnet, UK | - |
| Senior-Artistic-manuscript | - | - |
| Adult- Functional-cursive | Vinod Tellaputta, India | Siddhant Mahrija, India |
| Adult -Functional-manuscript | Alyysa Bernhardt ,USA | Mahmuzza Kenneth, Norway |
| Adult -Artistic-cursive | Rohit Bisht, India | Zhaleh Maddhah, Austria |
| Adult -Artistic-manuscript | - | - |
| Teens- Functional-cursive | Rukshya Aryal , Nepal | Sakshi Sharma, India |
| Teens -Functional-manuscript | Henry Han, USA | Kevin Li, USA |
| Teens -Artistic-cursive | Swornima Shakya, Nepal World Champ PEN | Todd Masslyk, USA |
| Teens -Artistic-manuscript | - | - |
| Pre-teens- Functional-cursive | Madeline Urling,USA | Jiahui Hou, China |
| Pre-teens Functional-manuscript | B. Kavin Kumaram, India | Mihir Manjrekar, India |
| Pre-teens -Artistic-cursive | Min-Su-Kim, USA | Vedanth Devdiga, India |
| Pre-teens -Artistic-manuscript | - | - |
| Children- Functional-cursive | Shlok Mane, India | Jeeval Manchanda, India |
| Children -Functional-manuscript | - | - |
| Children -Artistic-cursive | - | - |
| Children -Artistic-manuscript | - | - |
" - " = No competent entries received