Scholarship for International students do not seem to have any significance as approximately 40% of the slots reserved for foreign students is lying vacant for the last three years.
The reason behind such a fail is likely to be a lack of efficient diplomacy and coordination between Ministry of Human Resource Development, Finance Ministry and Ministry of Economic Affairs, stated experts.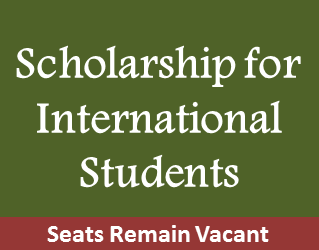 The government offered 3,465 scholarship slots for foreign students to pursue higher education in the country, but 39% of them, i.e. 1,361 seats were unfilled for the academic session 2013-14, informed DNA stating Indian Council of Cultural Relations' (ICCR) annual report. A bulk of these scholarships offers free education, lodging and boarding into top institutions in India and it is offered to the students from Afghanistan, Southeast Asia and the African continent.
Why do International scholarships in India remain unused?

A statement from the Indian Foreign Service office said, "Bureaucratic approach of our embassies, tedious application process and lack of transparency deters students from applying."
The scholarships are offered on a one-year basis, but the whole budgetary process and provisions take up a long time to get approved. And by the time the embassies announce the scheme, it becomes too late to apply, informed an ex-ambassador. He added that it becomes impossible to complete the sorting of applications within so short time.
One of the main reasons could be the lack of knowledge about such scholarships. Another possible reason is that while the 90% scholarships are offered for study Indian culture, Indian languages, Ayurveda and social sciences, whereas the demand is for courses in medicine, technology and management.
Data from the last few years showed that almost similar number of seats remained vacant, thus showing the failure of the Indian diplomatic missions overseas
Also, many of the foreign students prefer to study in cities like Kolkata, Delhi, Pune and Osmania universities after getting negative feedback from ex-students of lesser known institutions, informed an official from the Human Resources Department.