Depiction using each letter of Google to portray various facets of Indian woman – graceful, elegant, adept at balancing work and home and go-getter - by a schoolgirl in Pune has been adjudged the national winner of Doodle4Google contest.
The doodle made by Pune's Gayatri Ketharaman, will go live on the Google (India) homepage on November 14, the National Children's Day.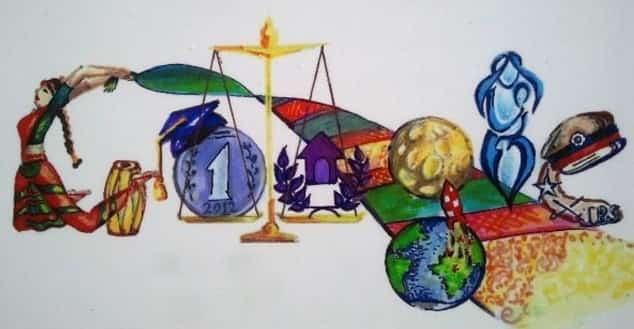 Each letter of the doodle titled 'Sky's The Limit for Indian Women' depicts a trait of the Indian Woman. "She is graceful and elegant, adept at balancing work and home. She is a go-getter. She personifies motherhood. Even in the face of adversity, she is courageous," Google said.
Doodle4Google (D4G) is an annual competition from the Internet giant for students of 1-10 grade who are invited to design the Google Doodle to celebrate Children's Day.
Doodles are known as the decorative changes that are made to the Google logo to celebrate holidays, anniversaries, and the lives of famous artists and scientists.
The theme for this year's competition was 'Celebrating Indian Women', and the company received over 1.5 lakh entries, from more than 1,500 schools across 100 cities. The final 12 doodles were shortlisted and put up for online voting.
"Our National Jury Kirron Kher and Ajit Ninan along with the original doodler select the National Winner out of the 12 finalists," Google said.
Among other categories, the doodle made by Madhuram Vatsal of Lucknow, showing all forms of Indian women – a learner, a warrior, a goddess, a dancer, a scholar and a lover of jewellery -- was adjudged best in the category 1 (class 1-3).
The doodle titled 'Women Are Future, Empower Them Better' won in the category 2 (class 4-6), while the same on 'Indian Women Leading Our Country' won in the category 3(Class 7- 10).
All the finalists will receive a Google Goodie bag and an Acer C720 Chromebook.
"Doodle4Google is the perfect platform for the youth of India to showcase their talent on an international platform. It allows youngsters from not just the metros but from Tier II, III and even IV cities to participate, which is evident from the entries seen this year," Google India Managing Director Rajan Anandan said.
Image Courtesy: IANS