In tune with Prime Minister Mr. Modi's agenda to strengthen Indo-Japanese ties, Prime minister Modi urged Indians to learn Japanese and also asked his counterpart to make online Japanese courses available in India. Mr.Modi, who visited Japan this month closely inspected the Japanese educational system and had high words of praise for the moral values and discipline it imbibes in students.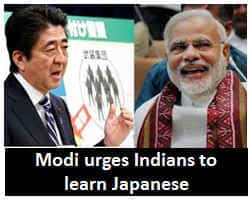 Claiming that the twenty first century belonged to Asia, Mr. Modi spoke for unity among Asian counties and further advocated the need for the breaking of linguistic barriers to enable mutual benefits in trade, commerce and humanity as such. Mr. Modi, who was invited to visit Taimei elementary school, witnessed an intricate presentation of the Japanese elementary and secondary educational system. In the press conference that followed, Mr.Modi appreciated the fact that parents were closely involved in the educational process in Japan and lauded the Japanese's resilience, acknowledging the fact that the school he was invited to was rebuilt after it was completely destroyed in 1923 by an earthquake. He drew a parallel to the devastating 2001 Gujarat earthquake which claimed the lives of 400 school children.
In a joint press conference with his Japanese counterpart, Mr. Shinzo Abe which ensued , Mr. Modi expressed his thanks to Mr.Abe for sharing his vision for India's economic transformation and expressed that Japan will play an increasing role in India's future.