A moving celebration of the life of former South African president Nelson Mandela, who died Dec 6 at the age of 95 was organised by school children in the National Capital Region (NCR).
The event titled " Madiba Tujhe Salaam - Remembering Nelson Mandela" organised jointly by the Gandhi Peace Foundation, the Working Group on Alternative Strategies and the hosts India International Centre, featured devotional songs by choirs of some schools in the NCR.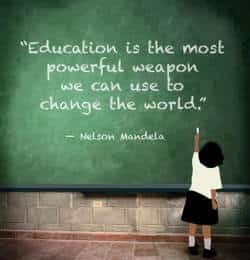 School students assembled at the Gandhi-King Memorial Plaza at the India International Centre and marched in procession to the auditorium, choirs sang songs from diverse faiths while audience joined in holding hands aloft and swaying to the music.
Friday is the last day that Mandela's remains will lie in state at Pretoria's Union Buildings, the official seat of the South African government.
Mandela was the recipient of the Bharat Ratna the highest civilian award in India. He believed in the principles of Gandhi.
On this occasion a short film on his life was screened that informed the projects set up in his lifetime which also included Projects as the 46664 (his prison number) to raise funds for children and the Nelson Mandela Children's Fund.
"The mood set here is brilliant. There is Gandhi, Madiba (as Mandela is called in South Africa) and Martin Luther King in all of you," David Zweli Nkosi, political counsellor at the South African High Commission here told the school children gathered.
"I'm not sure any other South African mission has got so much support in this period as the one in India. This is from the horse's mouth, India South Africa relations are bound to flourish," Nkosi added.
Pointing out that, both Mahatma Gandhi and Mandela had been "brutalized" by the apartheid regime in pre-independent South Africa, the South African diplomat said: "India and South Africa are inseparable."
Speaking on the occasion, Shiv Shankar Mukherjee, former Indian high commissioner to South Africa, cited Mandela to tell the children: "Freedom is not casting off your chains. Freedom is changing your opponent, your enemies so that he values freedom."
Providing insights into Mandela, Mukherjee, who personally knew the departed icon, said " No one outside South Africa did so much to raise the world's consciousness against apartheid as the (late prime minister) Rajiv Gandhi."