About IPU CET 2015 Exam Schedule
IPU CET is conducted by Guru Gobind Singh Indraprastha University and IPU CET is score is used for admission to more than 120 colleges in Delhi NCT for both UG and PG Programmes.
It offers admission to various graduate and post-graduate courses including B.Tech, B.Arch., BCA, BBA, B.Com(H), BMC, B.Sc.(MLT), B.Sc.(Hons) Nursing, BJ(MC), BASLP, BRT, B.Pharma, BPT, MPT, BHMCT, B.Ed., LLB, LLM, etc.
Candidates can apply for admission to these aforesaid programmes through a Common Entrance Test (CET) known as IPU CET.
The admission to various programmes under IPU CET 2015 in the University is based on the merit a candidate attains in the CET.
IPU CET Entrance Exam for various UG Programs will be held from May 3 to May 30, 2015. The schedule for exam date and last date to apply is given below.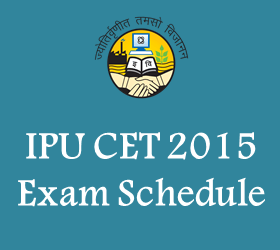 IP University has released the IPU CET Exam Dates Schedule.
The Undergraduate courses offered under IPUCET 2015 are as follows:
CET Code

Course Name

Last Date of Application (UPTO 4 PM)

Proposed IPU CET Date

Proposed CET Time

IPU CET Result 2015

131

B.Tech

April 7, 2015

May 17, 2015

2PM-4.30PM

May 26, 2015

130

B.Tech (Bio Tech)

April 7, 2015

May 16, 2015

2PM-4.30PM

May 26, 2015

114

BCA

April 7, 2015

May 3, 2015

10:30 AM to 1 PM

May 12, 2015

146

B.Com(Hons.)

April 7, 2015

May 24, 2015

2PM-4.30PM

June 2, 2015

125

BBA

April 7, 2015

May 10, 2015

2PM-4.30PM

May 19, 2015

122

B.Ed./B.Ed. (Special Education)

April 7, 2015

May 9, 2015

10.30AM-1PM

May 19, 2015

121

BA LLB/BBA LLB

April 7, 2015

May 9, 2015

2PM-4.30PM

May 19, 2015

115

B.Ed./B.Ed.
(Special Education)

April 7, 2015

May 3, 2015

2PM-4.30PM

May 12, 2015

126

BJMC

April 7, 2015

May 16, 2015

10.30AM-1PM

May 26, 2015

124

BHMS/BAMS/BPT/B OT/BPO/B.Sc(MLT)/B ASLP

April 7, 2015

May 10, 2015

10.30AM-1PM

May 19, 2015

127

BHMCT

April 7, 2015

May 24, 2015

10.30AM-1PM

June 2, 2015

104

BDS

April 7, 2015

May 2, 2015

2PM-5PM

May 12, 2015

128

LE to B.Tech (Diploma)

April 7, 2015

May 16, 2015

10.30AM-1PM

May 26, 2015

129

LE to B.Tech (B.Sc. Grads.)

April 7, 2015

May 16, 2015

10.30AM-1PM

May 26, 2015

142

BCA-MCA Dual Degree

April 7, 2015

May 23, 2015

10.30AM-1PM

June 2, 2015

117

.Sc (Yoga Science)

April 7, 2015

May 30, 2015

10.30AM-1PM

June 5, 2015
Apart from these, IPUCET 2015 also offers 'B.ARCH' with the following details:
Course code: 100
Date of Application: June 1- July 2, 2015
Declaration of Tentative Merit List: July 14, 2015
Last date for submission of representation (if any) by candidates: July 20, 2014
Declaration of final merit list: July 22, 2015
See the IPU CET Schedule for other exams