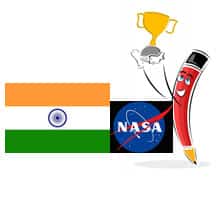 NASA (The National Aeronautics and Space Administration) world's premier space and aeronautical research organization started a unique competition- NASA Space Settlement Contest to enable young science and space enthusiasts to test their knowledge and skills.
The Winner of 20th NASA Space Settlement contest is an Indian Team. The Team of 6 people from class 10 (Aditya Pratap Singh, Amareen Sandhu, Hatinderpal Singh Ghotra., Hetarth Chopra., Karan Chouhan, and Prajjwal Mahajan) from from Apeejay School, Jalandhar won the Grand Prize of the competition and created a great moment for India. Prof Emanuel in Apeejay School Jalandhar trained the students for over 8 months and the school had sent 11 students this year out of which a team of 6 students won the Grand Prize. The winning team (Team Vona) had sent 113 page proposal sent to NASA on February 22, 2014 and the team received an official mail announcing their win.
The winning team has been invited to the international conglomeration set to be held at Los Angeles from 14-18 May, this year. The team would be presenting their ideas before over 500 Aeronautical scientists, astronauts and eminent personalities.We are all proud of the school, the team and the teachers who put in their hard work to bring such great laureals for the country.
Other Indian schools which participated and won are
Sri Sarada Vidyalayam Girls Matriculation Higher Secondary School -Madurai
KIIT International school- Bhubaneshwar
Rajiv Gandhi University of Knowledge Technology- Andhra Pradesh
Somalwar High School & Junior College, Nikalas Branch- Nagpur, Maharashtra,
Sri Chaitanya Techno School-Andhra Pradesh,
Ravindra Bharathi School- Dwarakanagar, Andhra Pradesh,
Ryan International School- Delhi,
DAV Public School, Airoli- Maharashtra
South Point High School, West Bengal
DAV Centenary Public School, New Delhi
Narayana Olympiad School, Hyderabad
Sri Praksh Vidyaniketan, Vishakhapatnam
Nelson's International School, Gujarat
There were also a lot of prizes won by Individuals and Other Schools in various other categories by Indian Students.
NASA Space Settlement Contest was started in 1994 is open for participation for students upto class 12. This year close to 600 entries were sent from sent across 18 countries from all over the world and India had sent close to 3 dozen teams for participation in the contest. It is indeed a pride moment for the country to win in all the categories.