Himachal Pradesh has decided to conduct its own engineering entrance exam separately from JEE Main 2015 for admission to the private engineering colleges in the state from the 2015-16 academic session.
The Himachal Pradesh Technical University (HPTU), Hamirpur, will conduct the pre-entrance test for admission into its private and un-aided engineering colleges.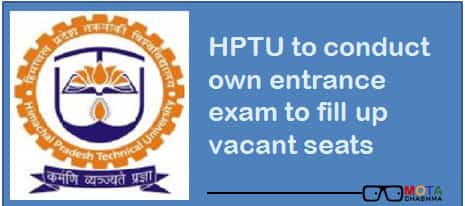 Seats to be filled first on the basis of JEE Merit list
The seats in private engineering colleges in Himachal Pradesh will be filled through JEE Main Merit list. If some seats are left vacant, they will be filled through the Common Entrance Test conducted by HPTU.
Vacant Seats in Private Engineering Colleges to be filled by State Entrance Exam
The government of Himachal Pradesh, under Section 5 of the 'Himachal Pradesh Private Technical and Vocational Educational Institutions (Regulation of Admission and Fixation of Fee) Act, 2008' has notified that the private colleges in Himachal Pradesh will fill the seats through the pre-entrance test conducted by the state if they are left vacant after admission on the basis of JEE merit list.
Private Engineering Colleges included under the Act
The private vocational, technical or professional colleges which comes under the above Act are
Institutions which are Deemed to be Universities (OR)
Universities which are established under a State Act or its constituents (other than the ones maintained and promoted by the Central Government (OR)
Private aided/unaided colleges affiliated to a University established under section 2 (f) of the University Grants Commission Act, 1956.
Total number of seats in Engineering Colleges in H.P.
Himachal Pradesh comprises 34 engineering colleges out of which 17 are private. There are a total of 6,100 seats available in private engineering colleges in the state, out of which only 3,055 were filled for the 2014-15 academic session.
Tikender Panwar, a member of the Communist Party of India-Marxist (CPI-M), said that the state government is taking this decision under pressure from private engineering colleges who plan to fill their seats with students who are unable to get through the all India entrance test.