CUSAT CAT 2015 for different courses under the Cochin University of Science and Technology (Cusat) will be held on May 2 and May 3, 2015. While the online CUSAT CAT 2015 for UG programmes will be conducted on May 2, 2015, the CUSAT CAT 2015 for PG Programme will be held on May 3, 2015.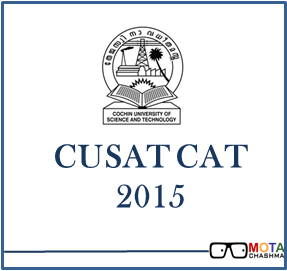 The Cochin University of Science and Technology (Cusat) is in plans to upgrade its examination standards by conducting its B.Tech examinations online from this year on. Notifications will be announced formally in January 2015.
Although CUSAT CAT may change the examination system to online mode, it does not plan to change the subjective mode of exam to objective type.
The rising demand for restructuring the examination pattern and to provide results on faster, effortless and impeccable manner has led Cusat to consider taking such a decision. Such a move will also decrease the chances of malpractice during the exams and evaluation process.
CUSAT CAT is likely to conduct a trial of the proposed online exam at the earliest, reported The Hindu citing informed senior university officials.
The set of questions for the online exam is likely to be prepared from a select question bank per term, with certain changes in the question bank from time to time, on the basis of recommendation from engineering departments.
Technologically upgrading the examination process will simplify the evaluation process to quite an extent.