CISCE Board now under RTI - ICSE to allow Re-evaluation. A per the Central Information Commission (CIC) ruling, CISCE Board will now be under RTI; the students of ICSE can now get their answer sheets and apply for revaluation. Unlike other Boards revaluation of the answer sheet was not allowed in ICSE.
ICSE Revaluation Policy came after a student named Kaushik whose ICSE Exam Answer Sheets was turned down. Kaushik's father has applied for rechecking his son's paper and after this, a new re-evaluation of ICSE Exam Answer sheets has now started.
ICSE Revaluation Policy in details
The Central Information Commission (CIC) said in its order that CISCE is an examining body and it might have an intellectual property right over the question paper, but they do not have any such right over the student's answer sheets. CIC order also added that without sharing evaluated answer sheets, the board cannot assure justice to the students, who at times might be victims of unreasonable evaluation. It is not proper on the part of this prestigious council like CIC to leave the students remedy-less in such a situation of injustice.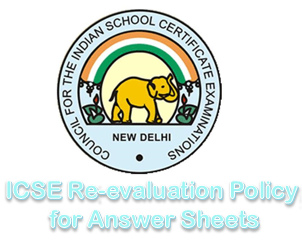 The order follows two high court judgement holding that CISCE was not a public authority. But CIC order stated that the issue is not whether CISCE is a public authority but whether it should be accountable or not. The honourable Supreme Court has also directed CBSE to share the Answer Sheets with the students seeking evaluation of their Answer sheets.
CISCE Board now under RTI

ICSE Revaluation Policy has come up for the students of Class 10 ICSE Board and they will now be able to get the copies of their Answer Books and also apply for re-evaluation. The ICSE Re-evaluation Policy has been brought by The Central Information Commission (CIC) for the private Council for Indian School Certificate Examinations (CISCE) board under the purview of the RTI Act. CISCE norms with the new policy now apply for the verification of marks at a fee of Rs 4000 for all papers as it was earlier. This step will ensure transparency in the functioning of private educational institutions
Quick Links