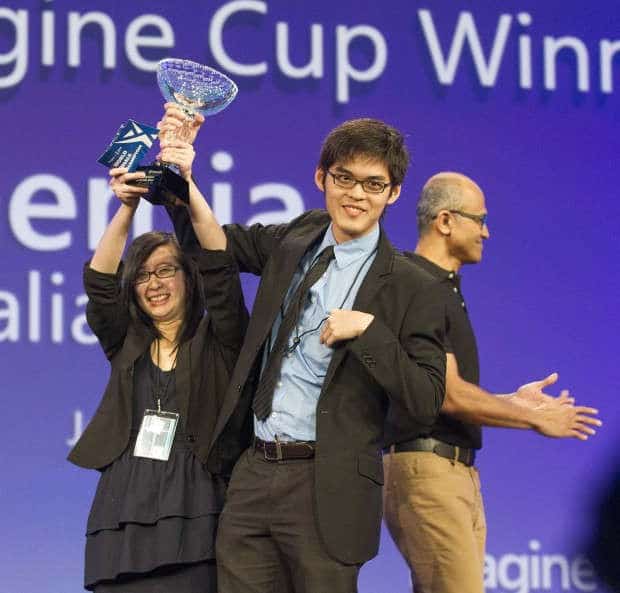 An Australian duo, Eyenaemia, was crowned champions in the Microsoft Imagine Cup finals which were held in Seattle recently. The Microsoft Imagine cup this year saw changes being made. There were three categories namely world citizenship, innovation and games. The winners of each category (the first, second and third place winners) fought it out to be crowned the Imagine cup champion.
The winners from the World Citizenship category, Eyenaemia managed to sway the VIP judges with their tool for detecting anemia. Their tool allowed users to detect anemia by just taking a selfie. The app detects the possibility of getting anemia by calculating the amount of conjunctivita in the eye, thus enabling untrained users to detect a disease which is usually done only by a medical practitioner.
The other winners from the 'World Citizenship' category were Smart Crew from Taiwan and Access Earth from Ireland. Smart crew created an App - 'usens' for stroke patients to give feedback about their rehab process from the comfort of their homes. Access Earth's app named 'Access Earth' provides information of buildings around the world, their amenities, thereby making the world a more accessible place.
The Innovation category saw Estimeet from New Zealand, Tep from Hungary and Butterfly from Bahrain bag first, second and third place. Estimeet's app which allows calculation of time to friends' arrival at a meeting place based on transport means and distance is something every friend group would need. Tep's app which is basically a fitness app, adds a new dimension by adding into the mix, a virtual pet, whose survival depends on the users fitness card. Butterlfy's nail polish app, an app which allows the user to create custom mixes of colors to create a unique nail polish shade and texture also caught the judges' attention.
Brainy studio's game 'turnon' which is basically about a spark called turnon bagged first place in the games category. The objective behind the game is to provide electricity to an entire city. Bomon, a team South Korea's game 'Under the Bed', which is about how the main character, Judy discovers a dust kingdom under her bed and explores it won second place and an Egyptian team, Illogic's game about a puppy trapped in a bubble won third place in the game category. An Egyptian team, Illogic's game about a puppy trapped in a bubble won third place in the game category.