With soaring cut offs of Delhi University, the Students now have an option to study in Delhi University through School of Open Learning - SOL or Non- Collegiate Women's Education Board-NCWEB.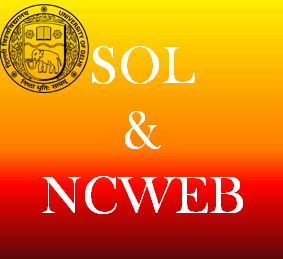 SOL- School of Open Learning
For student who want to work while studying or who want to pursue some professional course like CA or who missed applying to Regular colleges have an option of applying to School of Open Learning.
The school of open learning of Delhi University has announced its commencement of admission, 2014. The students are now invited to apply into SOL. The application can be made in either online or offline mode. For students applying for the admission through online mode, there is no payment of fee while the offline mode of admission requires the students to pay a fee of Rs.100. The delayed announcement for SOL admission rose due to protests emerging from the rumors to swap the three year courses in SOL to four years, similar to Delhi University. This had caused much tension among the students.
The students are requested to go through the following schedule for admission in School of Open Learning.
Important dates for admission into SOL
| | |
| --- | --- |
| Online Prospectus of SOL | June 17 ,2014 |
| Sale of Prospectus (offline) | June 25 ,2014 |
| Submission of Fee without late fee (online and offline) | August 21,2014 |
| Submission of fee with a penalty of late fee with Rs. 200 | August 22 to September 15,2014 |
| Change of course (once only) | October 31 ,2014 |

NCWEB- Non- Collegiate Women's Education Board
Admissions have also started in N.C.W.E.B (non –collegiate women's education board) which on June 17 and will be open till June 30. NCWEB is for admission for women residing in Delhi and have classes on weekends. Admission to NCWEB had witnessed a tremendous response at the second day of open day at South campus with 1,000 aspirants.
The director Anuj Gupta states "the N.C.W.E.B has not only seen the results of its students improving but is also attracting students with better school scores". The N.C.W.E.B students gets an edge over students with regular college in respect to many things such as, students of N.C.W.E.B have only 50 classes to attend in a year, giving them an opportunity to pursue other vocational and degree courses along.
This year around 180 students have managed to created a record by scoring 100 marks in the Final year exams. In fact, in the convocation ceremony in 2014 a student of NCWEB named Shilpa Bansal secured a gold medal for herself . The Interesting fact was that she was also teaching in a school along with her studies.
Important dates for admission to NCWEB
| | |
| --- | --- |
| Announcement of 1st list for NCWEB | July 9 ,2014 |
| Admission under 1st list for NCWEB | July 9 - July 11,2014 |
| Announcement of 2nd list for NCWEB | July 14 |
| Admission under 2nd list for NCWEB | July 14- July 16 |
| Announcement of 3rd list for NCWEB | July 17 |
| Admission under 3rd list for NCWEB | July 17-19 |