AFMC Medical Fitness Criteria 2020 - The candidates are advised to go through the Medical Fitness before applying for AFMC. Candidates can get themselves medically examined according to the AFMC medical fitness criteria to avoid any disappointment later on. Admission to AFMC will be done based on NEET 2020. The candidates called for interview will be subjected to a Medical Board constituted by the Commandant AFMC. Medical Board will categorise the candidates as Fit and Unfit, by the prescribed standards. This page gives the details information about the AFMC Medical Fitness Criteria 2020.
AFMC Medical Fitness Criteria - Check Here
The candidate will be declared fit for admission only if he/she is in a good physical and mental health and free from any disability that is likely to interfere with the efficient performance of duty in the Armed Forces.
Candidates found unfit in Medical Examination
The candidate found unfit by Medical Board will have the option to appeal to the Medical Board constituted by the Commandant AFMC, Pune within the 24 hours of the Initial Medical Board (excluding Holidays/ Sundays). Candidates can appeal on payment of a fee of Rs. 40.
The decision of the Appeal Medical Board will be final. There is no provision for medical examination/board of any other nature after a candidate has been declared unfit by the Appeal Medical Board. If the Appeal Medical Board also declare a candidate unfit he/she will not be considered for admission. It is to be noted that no seat will be kept pending on account of the candidate wishing to undergo treatment.
AFMC Medical Examination - Detailed Fitness Criteria
Candidates are advised to get themselves medically examined to avoid any disappointment later on. Read on for the detailed medical criteria:
Candidate should be free from serious deformity and mal-developments. There should be no scoliosis, spina bifida and other skeletal deformities apparent or on clinical examination.
There should not impede speech.
There should be no sign of functional/organic disease of the heart and blood vessels.
There is no fistula or evidence of piles.
There is no disease of the kidneys, including glycosuria or albuminuria.
There is no disease of the skin.
There is no active, latent or congenital STD or HIV.
There is no history of epilepsy and any mental and psychiatric disorder.
There is no squint or any other morbid condition of the eye and eyelids.
There is no active trachoma or its complications.
There are no enlarged glands (Lymph nodes) in the neck and other parts of the body.
There should be no evidence of pulmonary tuberculosis or previous history of this disease or any other chronic disease of the lungs. X-ray chest will be taken for this purpose.
There should be no evidence of any disease of the digestive system, including any abnormality of the liver and spleen. Ultrasound exam (USG) of the abdomen will be done.
There should be no inguinal hernia or tendency to hydrocele or definite varicocele or any other disease or defect of the genital organs.
Candidates who have been operated for the Hernia may be declared medically fit provided
One year has elapsed since the operation. Documentary proof of this effect is to be provided by the candidates.
The general tone of the abdominal musculature is good.
There has been no recurrence of a hernia or any complication concerned with the operation.
AFMC Medical Fitness criteria - Height and Weight standard
The height and weight requirements will depend on the age, body build and racial characteristics as per standards laid down for Armed Forces. The minimum requirement is as follows:
Girls standards: In case, of female candidates, a minimum height of 144 cms and a minimum weight of 36 Kgs is essential.
Boys standards: The male candidates with a height below 157.5 cms (152.5 cms for Gorkhas, Nepalese, Assamese and Garhwali) and weight below 47 kgs will not be accepted irrespective of age and other factors.
AFMC MBBS: Height and Weight criteria for Male candidates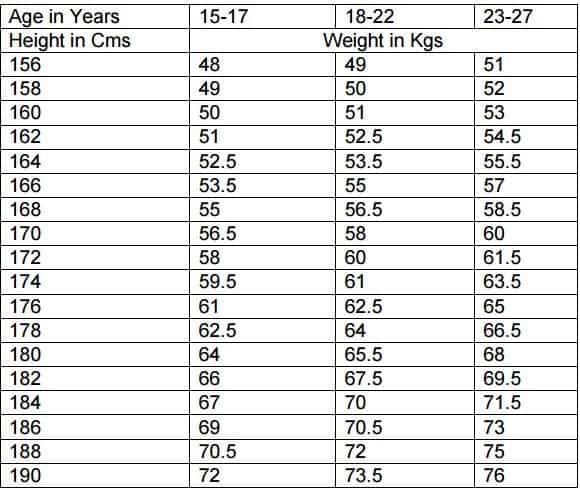 AFMC MBBS: Height and Weight criteria for Female candidates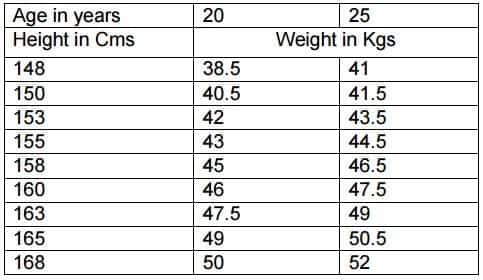 Overweight and obese candidates as per Height/Age/Weight standards for the Armed Forces will be declared unfit.
There should be a minimum of 5 cms range of chest expansion.
Minimum of 14 dental points is essential and candidates should be free from severe pyorrhea and advanced caries.
There should be no ear discharge and no perforation of the eardrum/nasal septum. There should also be no hard wax in the ear canal, obstructing the view of the eardrum.
AFMC Medical Fitness criteria - Visual standard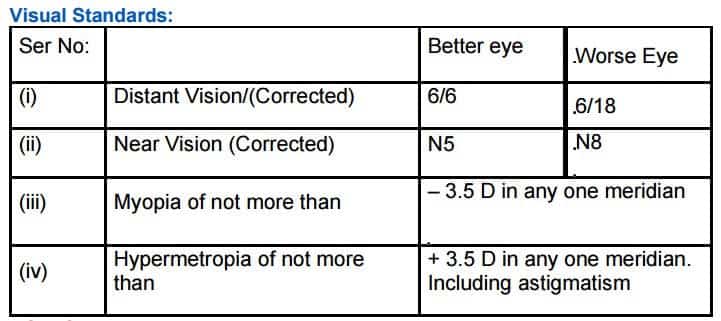 AFMC Hearing Criteria
The hearing will be tested by a speech test if required audiometric records will also be taken.
Speech Test: The candidate should be able to hear a forced whisper with each ear separately, standing with his/her back to the examiner at a distance of 20 feet in a reasonably quiet room. The examiner should whisper with the residual air, that is to say, at the end of an ordinary expiration.
Audiometric record: The candidates should have no loss of hearing in either ear at frequencies of 128 to 4.096 cycles per second (Audiometry reading between plus 10 and minus 10).
AFMC Medical Examination Contact Details
In case, of any doubt regarding AFMC Medical fitness criteria, the candidate can contact one of the following:
Telephone Numbers: +91-20-26334209 +91-20-26334223
Email on oicadmission@gmail.com, The Subject line of the Email should have Candidate ID – xxxxx, Name of the candidate, AFMC MBBS Admission 2020.
Fax: Candidate can fax to the Officer- In-charge, Admission Cell, AFMC Pune on the number +91-20-26334236 with following particulars: - (i) Full name with father's name and address.

Date of Birth of the applicant
E-mail id
Candidate ID
NEET Roll number
Tele No/Mobile No.
In case, of any query regarding the AFMC Medical Fitness Criteria 2020, you can write to us in the comment section below.