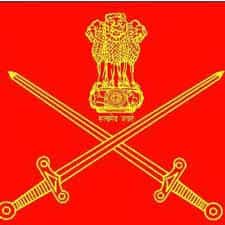 Indian Army (TES) Technical Entry Scheme Recruitment for 10+2 (January 2019)
About Indian Army TES
Indian Army TES -Technical Entry Scheme for January 2019 are invited to Class 10+2. Indian Army (TES) Applications are invited from unmarried male Indian Nationals candidates for Course 40 in Indian Army which will commence in January 2019 and will be awarded an engineering degree after the completion of the training. A total of 90 vacancies is out which are subject to increase/decrease. The recruitment is for the post of Permanent Commission in the Army after 4 years of Basic Military Training and Technical Training and applications will be available from 16 May 2018 to 14 June 2018. All those candidates who are interested in Join Indian Army can fill the online Application Process. Cadets will be granted Permanent Commission in the Indian Army in the rank of Lt. after the completion of 4 years course. This page holds the complete information regarding the Indian Army TES Technical Entry Scheme for January 2019.
Latest Update: Indian ARMY TES application process will be started on 16 May 2018. Candidates will be able to fill the online application form here.
| | |
| --- | --- |
| Events | Dates |
| Indian Army TES Application starts | 16 May 2018 |
| Indian Army TES Application ends | 14 June 2018 |
| Short listing of the candidates for SSB Interview | August 2018 |
| Course Commencement | January 2019 |

Grant of Commission: Candidates will be commissioned in the rank of Lt. on successful completion of total 4 years training. Seniority will be granted on the basis of the overall order of merit of the three technical institutes'. CME, MCTE, MCEME and in case the date of commissioning coincides with that of IMA, Dehradun, they will be placed en-block junior to IMA (NDA/ ACC / DE Course ) but above TGC/ UES course.
Appearing for the First Time!! Amazing fact
Candidates appearing for SSB interview for the first time for a particular type of commission shall be entitled to AC III tier for railway fare or bus fare including reservation cum sleeper charges within the Indian limits.
Candidates who apply again for the same type of commission will not be entitled to travelling allowance on any subsequent occasion
Subscribe for Regular Updates of Indian Army TES
Indian Army TES Eligibility criteria
Nationality: The position is open unmarried Indian male and subjects of Nepal and Bhutan.
Candidates can either be a Tibetan refugee who came over to India before 1 January 1962 with the intention of permanently settling in India or
Candidate can also be a person of Indian origin who has migrated from Pakistan, Burma, Sri Lanka and East African countries of Kenya, Uganda, the United Republic of Tanzania, Zambia, Malawi, Zaire and Ethiopia and Vietnam with the intention of permanently settling in India.
Age Limit: Candidate must not be below 16½ years and above 19½ years on the first day of the month in which the course is commencing i.e. the candidate should not be born before 1 July 1999 and not after 1 July 2002 (both days inclusive).
Educational Qualification: Candidates must have passed Class 12 Examination or its equivalent examination with a minimum aggregate of 70% marks in Physics, Chemistry, and Mathematics from a recognised education board.
Kindly Note: Candidates are not allowed to marry until they complete their full training.(5 years)
If the candidate gets married prior to the date of his application, if successful then to he will not be selected for training.
A Candidate who marries during training shall be discharged and will be liable to refund all expenditure incurred on him by the government.
Physical Standards
Candidates must be physically fit as per the prescribed physical standards. Candidates are hereby informed to get themselves medically examined to avoid disappointment at last stage.
Candidates are also advised to rectify minor order to speed up finalisation of the medical examination conducted at the Military Hospital after being recommended at the SSB.
Following are the common minor ailments:-

Wax (Ears) DNS
Hydrocele/ phimosis
Overweight/Underweight
Piles
Gynecomastia
Tonsilitis
Varicocele

The candidate recommended by the Services Selection Board will undergo a medical examination by Board of Service Medical Officers. Only those candidates will be admitted to the academy who are declared fit by the Medical Board.
Requirement of Physical Standards for Indian Army TES
Health: Candidate must be in good physical and mental health and free from any disease/disability which is likely to interfere with the efficient performance of duties.
There should be no evidence of weak constitution, bodily defects or underweight.
Height Requirements: Minimum acceptable height is 157.5 cms. (5cms less in case of Gorkhas and individuals belonging to hills of North Eastern regions of India, Garhwal, and Kumaon). In case of candidates from Lakshadweep, the minimum acceptable height can be reduced by 2 cm
Chest Expansion: Chest should be well developed. The minimum range of expansion after full inspiration should be 5 cms
Free from Disease: There should be no disease of bones and joints of the body.
Mild kyphosis or Lordosis: Mild kyphosis or Lordosis where deformity is barely noticeable and there is no pain or restriction of movement will not preclude acceptance.
No mental breakdown: Candidate should have no past history of mental breakdown or fits.
Hearing Capacity: Hearing should be normal. Candidate should be able to hear a forced whisper with each ear at a distance of 610 cms in a quiet room
Blood Vessels: There should be no sign of functional or organic disease of the heart and blood vessels. Blood pressure should be normal.
Muscles: The muscles of the abdomen should be well developed and there should be no enlargement of liver or spleen.
Others: A hernia should be operated. Any disease of skin which is likely to cause disabilities or disfigurement should be cured.
Indian Army TES - Sight Requirements
| | | |
| --- | --- | --- |
| Distance Vision (Corrected) | Better Eye (6/6) | Worse Eye (6/9) |
Myopia should not be more than 2.5 D and hypermetropia not more than 3.5 D
Candidates should have a sufficient number of natural and sound teeth. A minimum of 14 dental points will be acceptable. When 32 teeth are present, the total dental points are 22.
Permanent body tattoos are only permitted on inner face of forearm
Check out Height and Weight Standards: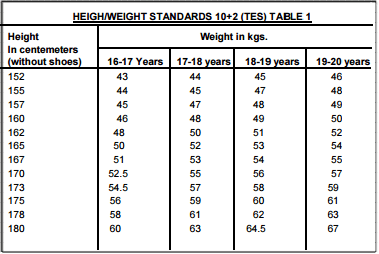 Suggestions
All the desirous candidates are advised to keep themselves in good physical condition, by following the under mentioned regimen daily:-
Jogging 3 to 5 Kms interspersed with short sprints
Skipping
Push-ups and sit-ups (minimum 20 each).
Chin ups (Minimum 08).
Try to learn the basics of swimming.
Indian Army TES Application form and Admit Card
The Indian Army Technical Entry Scheme Application process will be started on 16 May 2018 and the interested candidates can apply through online mode by following the link below. The application form can be filled until 14 June 2018. While filling up the application form, candidates are required to indicate exact PCM percentage of Class 12 up to two decimals and are not to be rounding off.
Click Here to Apply Online
(Link will be activated on 16 May 2018)
Indian Army TES Application Submission 2018
After submitting the form, candidates are required to obtain two copies of the Application printout and the Roll Number generated by the system. On One copy of the print out the application, candidates have to Sign it and affix photograph which has been attested by a gazetted officer of Central/State Govt.
The duly filled in Indian Army TES Application Form must be submitted Online only and after successful submission of the Application Form, an acknowledgment with a Roll number will be provided to the candidate. In case the system does not generate Roll Number, it is an indication of non-acceptance of the application by the system.
Documents to be carried at the time of Admission
Photocopies of Class 10 Certificate/Mark sheet showing the date of birth
Class 12 Certificate along with mark sheets
All the photocopies should be duly attested by Gazetted officer and all the above certificates in original are to carry.
The second copy of the printout of online application is to retained by the candidate for his reference.
Indian Army TES Result and Counselling
Candidates will be shortlisted on the basis of Cut off percentage applied and as decided by the Rtg Dte. Shortlisted candidates will be intimated regarding Selection Centre allotment through the official website.
Indian Army TES - Stages of Selection
Shortlisted candidates will have to go through Services Selection Board (SSB) interview at Bhopal, Bangalore or Allahabad.
Interviews will be held in August/September 2018 onwards and exact dates will be intimated by the concerned Selection Centres.
Duration of SSB interviews is five days excluding day of arrival. During their stay at SSB, candidates will go through Psychological Test, Group Test, and Interviews which are divided into two parts:

Stage 1:

On the first day of the selection procedure, psychologically originated test including intelligence test will be taken. Only successful candidates shall be retained for the balance of the testing. Candidates who fail to qualify in Stage - 1, will be returned on the first day itself.

Stage 2:

Successful candidates at the SSB will be required to undergo medical test lasting 3 to 5 days fewer Sundays and gazetted holidays. Candidates recommended by the SSB and declared medically fit will be appointed for training in the order of merit, depending on the number of vacancies available
Indian Army TES - Final Selection
The finally selected candidates will execute all the Bonds/Certificates as prescribed for the Cadets of NDA entry under Al 53/78.
Final merit list will be displayed at the notice board of Rtg Dte., (Offers Selection), DG Rtg, West Block-III, R.K Puram, New Delhi PIN-110066 as well as Indian Army, Recruiting Directorate website before the induction for pre-commissioning training
Training at Indian Army Technical Entry Scheme for January 2019 Batch

The basic military training would be held at Officer Training Academy Gaya comprises the duration of one year. Afterward, the technical training will take place which is divided into 2 phases:

Phase 1: It is a Pre-Commission Training of 3 Years and is held at CME Pune or MCTE Mhow or MCEME Secunderabad.
Phase 2: It is a Post Commission Training of 1-year duration held at CME Pune or MCTE Mhow or MCEME Secunderabad


Army will bear the entire cost of training including books and reading the material. Cadets will also be provided with free accommodation and mess. The cost of training would be Rs. 8785.
Indian Army TES Important details
On completion of 3 years training, the stipend of Rs 21,000 per month will be given to the candidates. (Rs 15,600 with as pay in Pay Band plus Grade Pay of Rs. 5,400)

On successful completion of 4 years training, they will be commissioned in the rank of Lt and entitled to pay as per the rank.
Indian Army TES (Jan 2019) - Pay Bands, Grade Pay etc
RANK

PAY BANDS/ SCALE

GRADE
PAY

MSP

LIEUTENANT

PB-3/15,600-39,100

5,400

6,000

CAPTAIN

PB-3/15,600-39,100

6,100

6000

MAJOR

PB-3/15,600-39,100

6,600

6,000

LT COLONEL

PB-4/37,400-67,000

8,000

6,000

COLONEL

PB-4/37,400-67,000

8,700

6,000

BRIGADIER

PB-4/37,400-67,000

8,900

6,000

MAJOR GENERAL

PB-4/37,400-67,000

10,000

NIL

LT GENERAL/HAG
SCALE

67,000 (annual
increment @ 3%)
- 79,000

NIL

NIL

HAG + Scale *

*Admissible to 1/3rd of
total strength of Lt Gens

75,500 – (annual
increment @ 3%)
– 80,000

NIL

NIL

VCOAS/ Army Cdr/
Lt Gen (NFSG)

80,000 (fixed)

NIL

NIL

COAS

90,000 (fixed)

NIL

NIL
Other Privileges: Over and above the CTC, Arm medical Facilities for Self & dependents, Canteen facilities, Entitled Ration, Mess/ Club/Sports Facilities Furnished Govt Accommodation, Car/ are provided at a subsidized rate.
Promotions: Promotion has been divided into two parts namely: Substantive Promotion and Acting Promotion

Substantive Promotion: Below given are the service limit for the grant of the substantive promotion to higher ranks:
By time scale

Lt

On successful completion of Training

Captain

2 years of reckonable commissioned service

Major

6 years of reckonable commissioned service

Lieutenant Colonel

13 years of reckonable commissioned service

Colonel

26 years of reckonable commissioned service

By Selection

Colonel

15 years of reckonable commissioned service

Brigadier

23 years of reckonable commissioned service

Major General

25 years of reckonable commissioned service

Lt General

28 years of reckonable commissioned service

General

No Restriction
Indian Army TES Contact
Rtg Dte., (Offers Selection),
DG Rtg, West Block-III,
R.K Puram,
New Delhi PIN-110066
Helpline Number: For any queries regarding SSB interview centre, call up details, reporting date and merit list, contact: 011-26175473 between 1400 hrs to 1700 hrs on working days
More about Indian Army TES