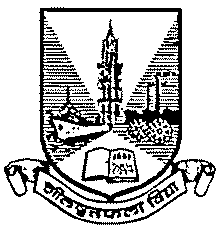 Mumbai University Admission 2018
About Mumbai University Admission
Mumbai University Admission 2018 process is likely to begin from the last week of May 2018. Mumbai University popularly known as "MU" is one among the first three state universities in India. It is located in the city of Mumbai in the Indian State of Maharashtra. Mumbai University offers UG, PG, PhD and PG diploma programmes in many disciplines. The admission in the Mumbai University will be done based on the merit list which is also prepared by the Mumbai University. The candidates before getting the admission in the Mumbai University should ensure their eligibility criteria. Mumbai University is considered as one of the largest universities in the world in terms of the number of students' intake in every academic year. There are 762 colleges affiliated to the Mumbai University. Admissions are offered at affiliated colleges, recognised institutes, and university departments for regular undergraduate and post-graduate courses. This page has the details about the Mumbai University admission, eligibility, application process, selection process etc.
Mumbai University Admission 2018 Dates
Events
Dates
Sale of Offline Form for Mumbai
University Admission
May 3rd week or
June 1st week 2018
Mumbai University Admission for
Online Form Submission
June 1st or 3rd week 2018
In-House Admission and
Minority quota admission
June 1st or 3rd week 2018
Submission of printed Application
form + Pre-Admission Enrolment Form (Mandatory)
June 3rd week 2018
Subscribe for Regular Updates of Mumbai University Admission
Mumbai University Admission Eligibility criteria
The candidates should check the Eligibility Criteria Faculty Wise for the Particular course before applying for the admission:
Faculty of Arts

Check Here
(Link will be available here)

Faculty of Commerce

Faculty of Science

Faculty of Law

Faculty of Technology

Faculty of Fine Art
Related Links
Mumbai University Admission Application form and Admit Card
Mumbai University Pre-admission form can be filled in both Online and Offline mode. The candidates aspiring for admission to First Year / First Semester of any undergraduate course in any college has to apply for Pre-Admission Registration. The candidates should keep Class 10 and Class 12 Mark Sheet and any other qualification ready based on which they are seeking admission.
Click Here to Apply Online
(Link will be available here)
Steps to fill the Mumbai University Application Form
Candidates have to fill in their name, date of birth, mobile number and a valid Email id to register.
On successful registration, candidates will receive an SMS on the registered mobile number containing the User Name and One time Password.
Candidates have to verify the same and change their password as per their convenience
Photograph and Signature: Candidates have to upload their scanned images of passport size coloured photograph and Signature as per the following specifications:
Size: 35 mm X 45mm
DPI Resolution: minimum 72 to maximum 150
Important Points:
Do not Create Fake Logins
Only one mobile number can be registered
Personalised Application Form: The online application form is personalised and hence will assist you in filling the relevant information only.
Candidates will be sent Login ID and Password on mobile by SMS.
Submission of the Application Form
The candidates have to submit the printout of application form along with necessary documents to every course-college separately for which you have applied. The application will not be considered valid in any case unless printout is submitted to the college. The candidates must make sure that college inwards their application forms after submission of the printout.
Mumbai University Admission Fees
The candidates are required to pay the Application Fees which will be notified later. The application fees can be paid through any one of the following modes of payment:
Online payment option through Debit/ Credit Cards/ Internet Banking.
Bank Challan of Bank of Maharashtra only.
Mumbai University Admission Result and Counselling
The admission in the Mumbai University for different courses is strictly offered on the basis of Class 12 merit.
The merit lists in all the Categories will be prepared on the basis of the marks secured in the qualifying examination.
There will be a faculty wise preparation of merit list for Three Year and Five Year Courses.
The Candidates who have been selected for admission as per the merit list must take admission within the time limit fixed in their case.
Mumbai University Merit List Schedule 2018
| | | |
| --- | --- | --- |
| Events | Dates 2017 | Dates 2018 |
| First Merit List | 22 June 2017 | June 3rd week 2018 |
| Verification of Documents | 23 June 2017 | June 3rd week 2018 |
| Payment of Fees | 27-28 June 2017 | - |
| Second Merit List | 28 June 2017 | - |
| Verification of Documents | 29 June 2017 | - |
| Payment of Fees | 30 June & 1 July 2017 | - |
| Third & Final Merit List | 1 July 2017 | - |
| Verification of Documents | 3 July 2017 | - |
| Payment of Fees | 4-5 July 2017 | - |
Mumbai University Admission Important details
Mumbai University Colleges
| | |
| --- | --- |
| Streams | No. of Colleges |
| Arts | 4 |
| Arts and Commerce | 36 |
| Arts and Science | 4 |
| Arts, Science and Commerce | 80 |
| Arts and Medicines | 4 |
| B.Sc Maritime Science (MERI Mumbai) | 1 |
| B.Sc Hospitality Studies | 25 |
| Commerce | 37 |
| Science and Commerce | 36 |
| Total | 227 |
Mumbai University Admission 2018 - Seat Distribution
For the academic session 2018-19, there are about 2.5 lakh seats for grabs with tougher competition in top-rung colleges. if compared to Delhi University it is much higher. Out of this 1.6 lakh seats are reserved for the traditional Arts, Science and Commerce courses and around. Due to the popular demand of self-reserved courses, 80,000 are reserved for the courses such as BMS, BMM, B.Com, and BSc.
It is near about 5-20% increase in the number of colleges that offer BAF, BBI, and such other courses. The biggest increase has been seen in BAF. Earlier there were around 7,440 seats but this year it has been increased to 8,760. The category and their percentage of seat distribution are given in the table below:
| | |
| --- | --- |
| Category | Percentage |
| SC | 13% |
| ST | 7% |
| DT (A) | 3% |
| NT (B) | 2.5% |
| NT (C) | 3.5% |
| NT (D) | 2% |
| OBC | 19% |
The majority of the students who seek admission belong to the state of Maharashtra alone. Out of the students enrolled in 2014, there were about 3,500 students who took admission were from the CBSE board, 916 were from the ISC and 485 were from the National Institute of Open Schooling.
While most of these students are from Mumbai, a few migrate from other states too.
Mumbai University Admission Notification (Last Year)
The candidates can check the admission notification for admission to following courses.


Mumbai University Admission Contact
Registrar
University of Mumbai
M.G. Road Fort, Mumbai - 400032
Phone
Fort Campus: 22708700
Kalina Campus: 26543000 / 26543300.
More about Mumbai University Admission