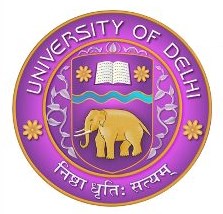 DU JAT 2018 - Application form is available online
About DU JAT
DU JAT 2018 - The University of Delhi has started the registration process of Delhi University Joint Admission Test (DU JAT) 2018. Management aspirants can apply for DU JAT 2018 from this page. DUJAT registration process started from 15 May 2018 for admission to the university's BBS/BFIA/BMS/B.A. (Hons.) Business and Economics. A total of 15 colleges will be accepting DU JAT scores. The last date to apply for DU Joint Admission Test is 7 June 2018 and the entrance test is expected to be held in the first week of July 2018. The first allotment list will be available tentatively in the second week of July 2018. This year, there is no reservation in DU JAT 2018 for supernumerary categories like Kashmiri Migrants, Sikkimese Students, Ward Quota and Sports/ECA. However, before applying for DU JAT 2018, aspirants must make sure that they have fulfilled the required eligibility norms. To know more about DU JAT 2018, important dates, application form, exam pattern and much more from this page.
DU JAT 2018 - Important Dates
The table below provides the list of DU JAT important dates 2018. Applicants must make sure that they
Events

DU JAT Dates 2018

DU JAT Application Begins

15 May 2018

DU JAT Application ends

7 June 2018

DU JAT Admit Card

3 days after the last date
of application

DU JAT Entrance test

First week of July 2018

DU JAT Final Result

Second week of July 2018

DU Commencement of Classes

20 July 2018
Interview for 3 courses scrapped: Until 2016, the candidates applying for BMS, BBA and BA Economics Admissions had to appear in DU JAT followed by Group Discussions and Interview. But from the year 2017, the merit list for admissions in these three courses has been made on Entrance test and Class 12 marks of the candidate and no interviews will be held on.

Quick Links
Subscribe for Regular Updates of DU JAT
DU JAT Eligibility criteria
Age: There is no minimum age bar for admission to BMS, B.A and BBA in DU
Academic Qualification: The candidate should have passed /appeared in Senior Secondary School Examination of CBSE or any other examination considered equivalent by the University of Delhi.
The candidate should have appeared and secured pass marks in English and three subjects from among the following:

Accountancy, Agriculture, Biology, Biotechnology, Business Studies, Chemistry, Commerce, Computer Science, Economics, Entrepreneurship, Geography, History, Informatics Practices, Mathematics, Philosophy, Physics, Political Science, Psychology and Sociology.
Minimum Qualifying Marks - The average marks scored in the four subjects mentioned above for the different categories should be as follows:
| | |
| --- | --- |
| General | At least 60% |
| OBC | At least 54% |
| CW/PWD | At least 57% |
| SC/ST | Passing marks |
Not eligible for the Joint Admission Test
Candidates who have got Compartment in the current year will not be considered for DU admission.

Candidates who have appeared in the class 12 examination in 2018 and who repeat a paper for improvement to gain eligibility will also not be offered admission
DU JAT Application form and Admit Card
The application process for the DU JAT 2018 has started from 15 May 2018. Now the candidates can fill the application form through online mode. The candidates can seek admission in any of the courses mentioned on this page based on DU JAT scores. Get complete information about the DU JAT Application Form 2018 by following the link below
Foreign candidates: Foreign Students seeking admission to BMS/ BBA (FIA)/ B.A.(Hons) Business Economics course and BA (Hons) Humanities and Social Sciences against the
prescribed quota of seats earmarked for them shall have to apply through the Foreign Students Advisor. The applicants should approach:
Foreign Students' Registry Office
Room No. 11,
First Floor, Conference Centre,
the University of Delhi,
Delhi-110007
DU JAT 2018 Admit Card
DU JAT 2018 Admit Card will be available to download for the candidates who have successfully filled and submitted the application form on or before the due date. Admit Card will be available to the candidates three days after the last date of application. The candidates should know that the DU JAT Admit Card will not be dispatched through the post to the candidates, so no correspondence in this regard will be considered. Admit Card is an important document to be carried at the exam centre.
DU JAT Fees
Application Fee
DU JAT Application Fee is different for each category. Hence, the candidates are suggested to make the payment of the application fee as per their category. The application fee can be paid by Credit/ Debit Card/ Net Banking
| | |
| --- | --- |
| Category | One Course |
| General and OBC candidates | Rs 500 |
| SC/ ST/ CW/ PWD candidates | Rs 250 |
DU JAT Result and Counselling
For admission to BMS, B.A. (Hons.) Business Economics, BBA(FIA) and BA (Hons) Humanities and Social Sciences, the candidates will be selected on the basis of Joint Admission Test and Class 12 marks. Until the year 2016, Group Discussion and Personal Interviews were conducted to select candidates. But from the year 2017, Delhi University has decided to do away with the GD and Interview. The weightage of the Entrance examination and Class 12 marks is as follows:
Course

% of weightage
Written Examination

% of weightage
Class 12 Marks

BMS / BBA/ BFIA

65%

35%
B.A. (Honours) Business Economics

65%

35%
BSc Physical Education

65%

35%
DU JAT Exam pattern
All the questions will be multiple choice questions
Syllabus: There is no prescribed syllabus or format for the entrance test
Duration: 2 Hours
Total Questions: 100
The answers are to be marked by blue or black ball point pen on a separate OMR answer sheet
Scoring: Each correct answer will get a score of plus 4 marks, each wrong answer will get a score of minus 1 mark and a question not answered will get a score of zero marks.
Subject
Total number of Question
Quantitative Ability

100

Reasoning and Analytical Ability
General English Business
Business and General Awareness
DU JAT Important details
DU JAT 2018 Time Slot for Entrance Examinations
The examination schedule of the Delhi University is yet to be released for the year 2018. However, the examination slot for the last year is given in the table below. The candidates can get the idea about the upcoming slot for the examination by going through the dates below.
DAY

TIME SLOT FOR THE ENTRANCE EXAMINATIONS

8:00 AM to 10:00 AM

12:00 PM to 2:00 PM

4:00 PM to 6:00 PM

2 July 2017
(Sunday)

BA (Hons) Multimedia and Mass Communication

BElEd

BSc Physical Education, Health Education & Sports Sciences

9 July 2017
(Sunday)

BA (Hons) Humanities and Social Sciences
(Cluster Innovation Centre)

JAT BMS/BBA (FIA) and

BA(Hons) Business Economics

BTech (IT & Mathematical Innovations)
(Cluster Innovation Centre)
DU JAT 2017 - Third Allotment Rank List

DU JAT Contact
Faculty of Applied Social Sciences & Humanities,
University of Delhi, Delhi - 110 007
Phone: 91-11-27666382-84 Extn. 104/05; 91-11-27667877 (Dean's Office)
Fax: 91-11-27667183