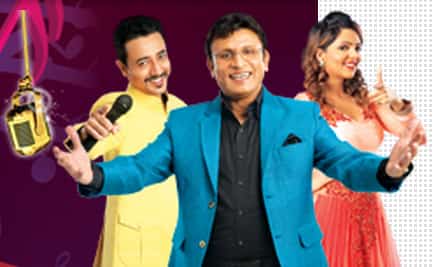 How to participate in Family Antakshri

The Person has to nominate minimum 3 and maximum 5 family members in addition to himself/herself.
Before starting with the online registration the person has to make a video as an introduction to their family.

See the sample video

and make the video on similar lines. Once your video is complete then you can register online for participation in Family Antakshri.
They have to register online and provide the folllowing details

Name of Registrant(s)
Contact number
Email Address
Full name of Participant(s)
Relationship with Registrant(s)
Gender
Selection Process for Family Antakshari
Once a family is selected for participation in Family Antakshari, a maximum of 2 attempts wll be made for contacting the shortlisted participants for further round of auditions.




The participants have to get their photo identity proof and address proof to the venue of the auditions.
Name Proof

Address Proof

PAN Card

Landline Phone / Electricity Bill

Passport

Passport

Voter ID

Voter ID

Driver's License

Driver's License

Ration Card

For Minors

Birth certificate

School ID Card

Bonafide certificate with the child's identity
attested by the Principal of the school being
attended/ School ID Card

Passport Programing the relation between the Parent/Guardian and the Minor

Passport

UID/ Aadhar Card

Ration card

Ration Card

Birth Certificate
Other Documents required for Minors

Consent letter for participation from Parent(s) / Guardian(s) /Known Person(s)
'Authorised written letter' from Parents of Minor Participants
If required, 'Authorized Leave Confirmation letter' provided by school or local authority upon selection in the Auditions
Even after the final selection of the participants, the production house will have the complete right to replace the participants.