Students are required to apply for a Visa for pursuing studies abroad. International students who aim to pursue higher education in Australia must obtain a student visa apart from a passport in order to travel to the continent. A student visa is issued, keeping in mind various factors like the requisite documents, the intent for travelling abroad, among others. Students must be extremely careful and take utmost care in order to retain their visas. In order to ensure that student visa is not cancelled, students must study for 40 hours in a fortnight and must maintain a minimum of 80% attendance in class.
Assessment levels for Obtaining Visa: There are three assessment levels for granting student visas on the basis of immigration risk involved. Every country is assigned a different assessment level, which depends on the basis of immigration risk in the previous year and the country's compliance with visa requirements, among other factors.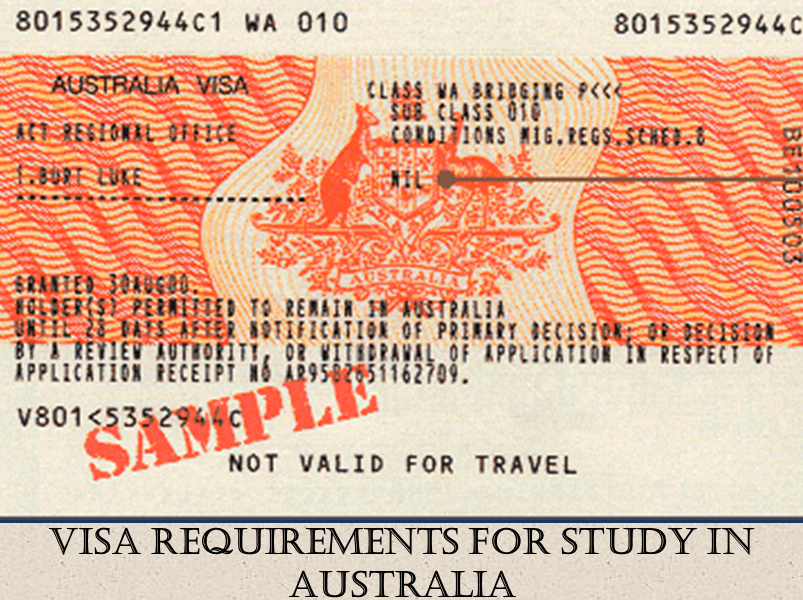 The higher the immigration risk over a particular period, the higher is the assessment level. A higher assessment level requires the candidate applying for the visa, to submit more documents to support the student visa processing application.
Important Criteria for Obtaining Student Visa for Australia
Transparency in visa requirements
Clear vision regarding study in Australia
Streamlined Visa Processing
International students who have obtained a Certificate of Enrolment for study in Australia are eligible for streamlined visa processing. Rest of the international students must apply for visa subclass in accordance with the course offered.
Streamlined visa requirement is necessary for international students who are applying for study at one of the higher education providers in Australia. Students are required to produce a Certificate of Enrolment provided by the host university while applying for streamlined visa, failing which, the visa processing will be cancelled.
Streamlined visa processing is applicable for full-time courses in Bachelor's/Master's/Ph.D. programme, vocational education and training (VET) and advanced Diploma in Australia.
If a student is eligible for streamlined visa processing, it means he/she possesses lower immigration risk, and, therefore, does not require an assessment level.
Visa Subclasses for International Students
The students who wish to get a visa for both non-award study programme/study programme abroad with a preliminary course will NOT be eligible for streamlined visa processing. Students applying for short-term courses cannot apply for streamlined visa processing.
Features of Streamline visa processing:
It allows the applicant to pursue full-time education in Australia
Pursue courses which do not lead to a degree/award.
Given below is a list of the student visa subclasses and a student guardian visa. Each visa is based on the type of course, the student is pursuing.
Independent ELICOS
Schools
Vocation Education and Training (VET)
Higher Education
Masters and Doctorate
Non-award
AusAID or Defence sponsored
Student Guardian visa
| | | |
| --- | --- | --- |
| Visa Subclass Name | Number | Purpose |
| Independent ELICOS | 570 | This type of visa subclass is for international students who have enrolled for admission into ELICOS (English Language Intensive Courses for Overseas Students) in Australia for a full-time course. |
| School Visa | 571 | This is for international students to undertake primary/secondary school education in Australia OR is a secondary school exchange program approved by the requisite authority. |
| Vocation Education and Training (VET) | 572 | Must have enrolled in Certificate I, II, III and IV courses, (excluding ELICOS), VET Diploma, VET Advanced diploma, Vocational Graduate Certificate and Vocational Graduate Diploma in Australia. |
| Higher Education | 573 | This type of visa covers Higher Education Diploma, Higher Education Advanced Diploma, Graduate diploma, Bachelor's degree, Associate degree, Graduate certificate and Master's degree by coursework. |
| Postgraduate Research | 574 | This kind of visa is applicable for students who have enrolled for admission into a Master's Degree by research or a Doctoral degree. |
| Non-award Sector | 575 | This visa covers the courses which do not lead to a degree/award of any kind. |
| AusAID or Defence sponsored | 576 | This visa includes the full-time study for international students who are sponsored by Department of Foreign Affairs and Trade or the Department of Defence for the full-time/part-time training course offered by an Australian education provider. |
| Student Guardian visa | 580 | This kind of visa is applicable for people who wish to join an international student under 18 years who will be pursuing their studies in Australia. |