UGC Fake Universities names in India are the blacklisted names of Universities in different states of India, and the degrees from these universities will be considered as invalid. The University Grants Commission (UGC) of India is a statutory organisation that was set up by the Union government in 1956 for coordination, determination and maintenance of standards of university education. Universities in India are required to get recognition from UGC prior to their functioning The institutes which are not recognised by UGC and are running against the UGC Act, 1956 are considered to be fake universities. Students who pursue their studies in these universities, their degrees are considered invalid across the country and are not accepted at the professional level in any of the sectors i.e. government jobs, private jobs or others.
UGC has released the fake Universities names of different states of India. In the year 2017, two Universities from the state of Odisha has joined the previous list. The University Grants Commission has come up with a State wise list of fake universities so that students have information and they might be able to take right steps while applying for admissions to institutes/universities across India.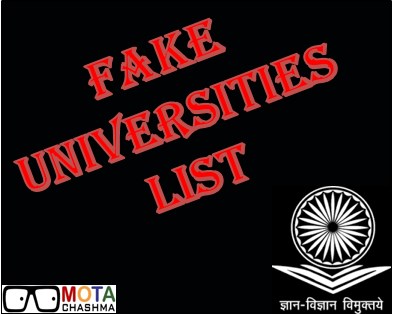 UGC List of Fake Universities - State wise list


The State wise list of the fake university is given here:
Fake University in Bihar
Maithili University/ Vishwavidyalaya, Darbhanga, Bihar.
Fake Universities in Delhi
Commercial University Ltd., Daryaganj, Delhi.
United Nations University, Delhi.
Vocational University, Delhi.
ADR-Centric Juridical University, ADR House, 8J, Gopala Tower, 25 Rajendra Place, New Delhi - 110 008.
Indian Institute of Science and Engineering, New Delhi.
Viswakarma Open University for Self-Employment, Rozgar Sewasadan, 672, Sanjay Enclave, Opp. GTK Depot, Delhi- 110033
Fake University in Karnataka
Badaganvi Sarkar World Open University Education Society, Gokak, Belgaum, Karnataka.
Fake University in Kerala
St. John's University, Kishanattam, Kerala.
Fake University in Maharashtra
Raja Arabic University, Nagpur, Maharashtra.
Fake University in Tamil Nadu
D.D.B. Sanskrit University, Putur, Trichi, Tamil Nadu.
Fake Universities in West Bengal
Indian Institute of Alternative Medicine, 80, Chowringhee Road Kolkata.
Institute of Alternative Medicine and Research, 8-A, Diamond Harbour Road, Builtech inn, 2nd Floor, Thakurpukur, Kolkata-700063
Fake Universities in Odisha
Nababharat Shiksha Parishad, Anupoorna Bhawan, Plot N0-242, Pani Tanki Road, Shaktinagar, Rourkela-769014
North Orissa University of Agriculture & Technology, Odisha
Fake Universities in Uttar Pradesh (UP)
Varanaseya Sanskrit Vishwavidyalaya, Varanasi (UP) Jagatpuri, Delhi.
Mahila Gram Vidyapith/Vishwavidyalaya, (Women's University) Prayag, Allahabad, Uttar Pradesh.
Gandhi Hindi Vidyapith, Prayag, Allahabad, Uttar Pradesh.
National University of Electro Complex Homeopathy, Kanpur, Uttar Pradesh.
Netaji Subhash Chandra Bose University (Open University), Achaltal, Aligarh, Uttar Pradesh.
Uttar Pradesh Vishwavidyalaya, Kosi Kalan, Mathura, Uttar Pradesh.
Maharana Pratap Shiksha Niketan Vishwavidyalaya, Pratapgarh, Uttar Pradesh.
Indraprastha Shiksha Parishad, Institutional Area, Khoda, Makanpur, Noida Phase-II, Uttar Pradesh.
Gurukul Vishwavidyala, Vridanvan, Uttar Pradesh.
Bhartiya Shiksha Parishad, Lucknow, UP - the matter is dubious before the District Judge - Lucknow.
For any other queries related to UGC Fake University List, you can write us in the comment section below.