Most of the times, the candidates interested in a particular course, scholarship or whatsoever apply for the same but barely keep themselves updated regularly on the website. They have to remember lots of dates and the events which often times get risky for them because many times, some of the candidates due to lack of remembering the important events left unknown and get to know about it later on which of then get no use of it. So to ignore the cause and resolve this problem, we have an ideal solution for it.
Now no more remembering of dates, no need to visit the website more often. All the latest exam alerts about the availability of the admit card or the declaration of the result etc will be on your mobile phone. And the good thing is that the candidates will not be charged to receive those alerts. Then why wait! Register Now.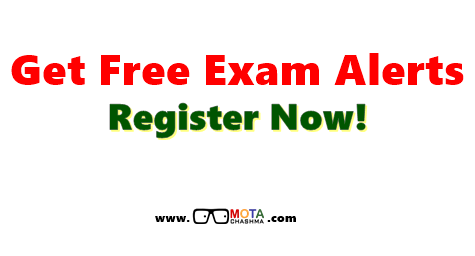 Get Entrance Exam Notifications, Exam Dates, Study Tips, Educational News and Lot More every few days directly on your mobile phone. Fill the details below to Register yourself.


Click on this link or fill your information below
Get Exam Alerts for the Following Sections - Register Now!


Mota Chashma is an opportunity portal for students, parents, schools and colleges which information on scholarships, competitions, fellowships, entrance exams, admission, auditions and other educational information and news. It keeps them updated about all the opportunities and is a first of its kind portal in the country which provides all such exhaustive information free of cost at one place.
Scholarships/Competitions: Mota Chashma gives a comprehensive list of scholarships, competitions, fellowships, internships conducted by Government, NGOs, International Organisations, Private Companies etc. enabling this platform to provide opportunities for everyone to win cash awards, scholarships, recognition and much more.

Entrance Exam: Here the students can find information on all entrance exams like engineering, medical, defence, fashion & design, hotel management etc. including complete details on eligibility, application process, exam pattern, result, counselling etc. There is also a list of recommended books for all exams.
Auditions: In India, a lot of TV shows promote children to showcase their talent but the problem that many children and parents face is that they do not get timely information about the dates of the auditions for these shows, especially people living in smaller towns. Mota Chashma helps them get timely information about all.

Education News: Mota Chashma provides regular updates in the Education sector to parents, students and schools so that they can take informed decisions at any point in time.