Clinical Psychology is a long-term course that requires much of your time and dedication as well. If you are interested in clinical psychology, then you should start preparing for the admission in Graduate/Pos-Graduate/PhD Programmes in India. In this branch of psychology, we deal with the treatment of complex human problems which can not be solved on their own such as depression. A clinical psychologist should have a passion for discovery, learning and listening, this is what it takes to be a successful psychologist who delivers clinical or counselling services. Clinical Psychologists, today, are in great demand, As of 2012, about one-third of all psychologists were self-employed.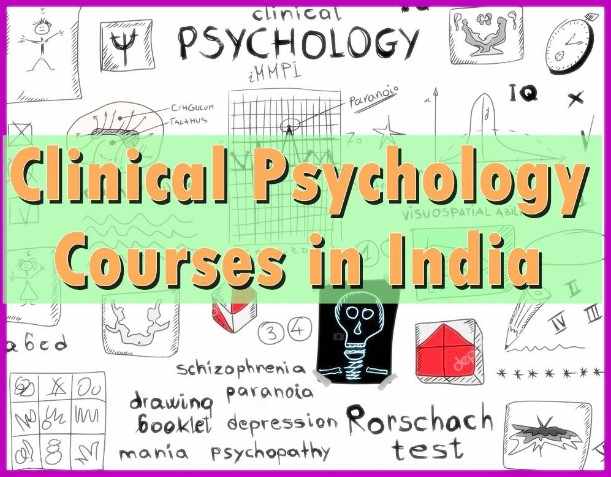 Clinical Psychology Courses - How to become a Psychologist
To be a psychologist, there is no compulsion of what stream you choose at 10+2 level. However, It is advisable to take Psychology in graduation to have a basic understanding of the subject which will be very helpful in Post graduation and Post Doctoral levels. It will be taking about 5 o 7 years to become a certified Psychologist including the Researches and Internships successfully completed by the candidate.
Bachelor's Degree in Clinical Psychology: Students can make their way clear at graduation level to become a clinical psychologist by starting it all with a graduate degree of BA/BSc from a UGC Recognised University. So, choosing psychology at graduation level will make it easier to grab a postgraduate degree in Psychology. But it depends on the choice of the student, they can also decide to study pre-med, sociology or anthropology to stand out from the crowd.
Master's in Clinical Psychology: At master's level, students have an option to opt for specialisation. Here they can choose clinical psychology at post graduation level. After completing the graduation, Clinical Psychology as a subject can be pursued at postgraduate level for a duration of 2 years. Candidates who have completed their Bachelor's degree in Psychology are eligible for this program.
Doctorate degree in Clinical Psychology: Now the student has two choices at the doctoral level; either they can choose PhD or PsyD. In PhD students can go for research work, while the PsyD prepares students to see clients in a clinical setting. Choice either of the two is an accomplishment in itself, because many students apply for clinical psychology at Doctorate level, but only a few get admission in renowned colleges.
Online clinical Psychology program: Some students are not lucky enough to spend their whole time on learning these courses. So, for such students, some online courses are also available. They can be an ideal choice for students who work full-time or have family obligations.
Best Psychology Colleges in India to study Clinical Psychology
| | |
| --- | --- |
| Institute name | Psychology Courses Offered |
| Amity University (AU), Jaipur | |
| University of Delhi, Department of Psychology | |
| Pt Bhagwat Dayal Sharma Post Graduate Institute of Medical Sciences (PGIMS Rohtak), Rohtak | |
| JSS Medical College (JSS), Mysuru | |
| Institute of Human Behaviour and Allied Sciences (IHBAS), Delhi | |
| Christ College (CC), Irinjalakuda | |
| National Institute for Empowerment of Persons with Multiple Disabilities (NIEPMD) (NIEPMD), Nilgiris | |
| Amity University Manesar (AU), Gurgaon | |
| KLE University, Belgaum | |
| St. Agnes College (SAC), Mangalore | |
| Ranchi Institute of Neuro- Psychiatry and Allied Sciences (RINPAS), Ranchi | |
Career in Psychology in India - Clinical Psychology

If you want to practice as a psychologist in clinical, counselling or school psychology, you will also have to complete a one-year internship as part of your doctoral study in your area of practice. A Clinical Psychologist can work in a variety of environments, including schools, prisons, research institutions, colleges and universities, businesses and organizations, and private practice. They can also assume roles as researchers or educators instead of direct contacts with patients. The best career opportunities for them are:
Private Clinical Psychologist:

In this position, their role is to individually meet with patients to assess, diagnose, and treat their mental disorders. Clinical psychologists can work from a private practice, setting their own hours and working with as many or as few patients as they seek to take on. They are not bound for timings and number of patients.

Professor:

after getting a Master's degree, they can choose their career in academics by teaching in colleges/institutions. It is a job of service and responsibility, as you have to teach others what you have been taught.

Substance abuse clinical psychologist:

in this case, they are specialised in treating those who are addicted to drugs and alcohol. Here they can work in groups or individually, it's their own choice.

Social Worker:

there are a number of non-profit organisations that can't afford that much money to hire a clinical psychologist. So, they can help them free of cost.

Child Mental Health Specialist:

it can also be a play event because here you get the time to spend with children. Here you can help them with their health issues and the problems that they face at home or school level. You may work with students that have mild disabilities or you may work with students that have moderate-to-severe disabilities.

Rehabilitation Clinical Psychologist

: in this position, it is required for the psychologist to work with groups and individuals alike to identify the driving forces behind addiction.
Quick Links,
In a case of any query related to this page, you can write us in the comment section below.