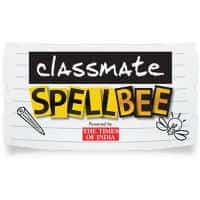 Classmate Spell Bee 2015 Competition | Season 7
Last date to apply
November 30, 2014
City Wise Shedule of the Exam
About Classmate Spell Bee 2015 Competition | Season 7
Classmate Spell Bee 2015 powered by The Times of India is a spelling competition for students from Class 5 to 9.
The competition is an 'Initiative by Radio Mirchi' and this year it will travel to more than 800 schools across 30 cities in India and will cover more than 2,75,000 students.
This contest tests the spelling quotient of the students and helps in transforming the students in being competitive, challenging and inculcates a spirit of good sportsmanship towards spellings
Contest will engage in a variety of methods to test the students on spellings, offering the perfect pronunciations and supplying the etymological meaning of each word.
In this competition, the student has to self-learn, which invariably improves retention power of students and it assists the students in being confident and reach their maximum potential.
Classmate Spell Bee 2015 Level 1 will be held upto November 30, 2014 and Level 2 from December 4-December 7, 2014
Who can apply - The Eligibility Criteria
| | |
| --- | --- |
| Gender | Both |
| Region | All India |
| Class/ Age | Class 5 to 9, Age- 10-16 years |
Reward
National Champion of Classmate Spell Bee
Semifinalists
Four semi finalists win a cash prize of Rs. 50,000 each
Top 16 participants
Get to showcase their skills on National Television i.e. on The Discovery Channel, Discover Kids & Discovery Tamil.
Application Mode and Process
Application Process of Classmate Spell Bee Competition- Online Contest
Fill in the complete registration form >> Register for Classmate Spell bee 2015 competition
Register: The registration should be done by parents/guardians of the participant.
Username and password will be generated by the website.

Username will be the email id entered on the registration form.
Password will be an alpha numeric code generated automatically
After registration a code would be generated

After registration the student will have to immediately take the online test without leaving the website.
Login on the Website using you individual username and password.
Take the Online test to participate in the online version of the Classmate Spell Bee 2015.
Test results will be communicated for the shortlisted participants of the online Contest on the website.
What Type of Test would be conducted?
A MCQ format (Multiple Choice Question) written test will be conducted for students in standards 5– 9 in the schools that classmate physically conducts there tests.
Practise for Classmate Spell Bee 2015 >> Take the mock test
Click here to see some commonly mis-spelt words
Buy books for the preparation
Buy Times of India book on SpellBee
A Champions Guide to Success in Spelling Bees
Selection Process
Selection Process of Classmate Spell Bee Competition
The competition will be held in 4 levels.
The competition starts with tests conducted in schools, followed by an online City Final round, subsequently followed by two rigorous Semi Final rounds and finally culminates into an exciting televised national level championship.
If a student belongs to a city that is not part of Spell Bee's Level 1, he / she can participate by taking the Level 1 online test by choosing his/ her preferred city for participation in Level 3 (if he / she qualifies for the same after Level 1 and Level 2).
Level 1: School Level
The School Contact Program

A MCQ format (Multiple Choice Question) written test will be conducted for students of class 5-9 in selected schools.
Students will be asked to fill in some mandatory information about them for all future correspondence. They will be asked to select the correct spellings of 75 words given to each one of them.
Top scorers from every school will make it to Level 2 (City Finals) of the competition.
Level 1 will be held till November 30, 2014
Level 1: Online Test
Classmate Spell Bee makes it possible for every eligible student in India to take the test in Level 1 by taking an online test.
Top scorers from the online test will also be invited to Level 2 of the competition.
Level 1 online test will be a MCQ based test of 75 words of 10 minutes.
Level 2: City Finals (An Online Test)
Level 2 participants will be determined by shortlisting students from Level 1 only.
Students can qualify for Level 2 either by participating in the online Level 1 test or by participating in the school level test.

If a student has applied via both Online & through school then the score obtained through school would be considered for shortlisting the student for Level 2.

The shortlisted students will be intimated by Radio Mirchi via the school coordinator or via telephonic communication.
In each city, all the winners from all schools will compete together in an online test to be held on pre-decided dates.
The date and time for the same will be communicated to the students in advance.
There will be MCQ test of 75 words for 7.5 minutes.
Level 2 will be held between December 4-December 7, 2014
Level 3: Semi Finals
Shortlisted students from the City Finals will be invited to participate at pre-decided locations on pre-decided dates to take part in the Semi Finals.
The Semi Finals have 2 rounds.

Round 1 is an online MCQ format time bound test of 10 minutes with 60 words.

The top 10 scorers from this round progress to Round 2 of the Semi Finals.

Round 2 is an online MCQ format time bound test of 10 minutes with 45 words.

The students with the top 16 scores across the country from this round qualify for Level 4, the National Finals.
Level 4: National Finals to be telecasted on Television
Round 1:The 16 students are divided into groups of four each.
Round 2:The winners from each of the four groups compete in The Grand Finale. The winner of this round is declared Classmate Spell Bee National Champion Season 7
Address
Matulya Centre, 4th Floor, A – Wing, Senapati Bapat Marg, Lower Parel (West), Mumbai – 400013
Contact Classmate Spell Bee 2015 Competition | Season 7
Phone: +91 955 455 9944
E-Mail: info@classmatespellbee.in