B.Pharm Colleges, B.Pharma Course, Top Pharmacy Colleges in India and State-wise B Pharm Colleges. and Career Opportunities in the stream of Pharmacy are discussed in this article.
India is a developing, sovereign, secular republic consisting of 28 states and 7 union territories. India is the second most populous country with the population of approximately 1.2 billion. The Formal Pharmacy Education leading to a degree began with the introduction of a 3-year bachelor of pharmacy (BPharm) at Banaras Hindu University in 1937.
This article will provide the information related to:
B.Pharma Eligibility Criteria
Details about the B.Pharm Courses
Admission Criteria to B.Pharma Courses
Career Opportunities after B.Pharm
Top B.Pharma Colleges in India
Statewise B.Pharm Colleges in India Offering Undergraduate Courses
B.Pharm Degree Programs offered in India



Course

Duration

Diploma in Pharmacy (DPharm)

2 Years

Bachelor of Pharmacy (B Pharm)

4 Years

Master of Pharmacy (MPharm)

2 Years

Master of Science in Pharmacy [MS(Pharm)]

2 Years

Master of Technology in Pharmacy [MTech (Pharm)]

2 Years

Doctor of pharmacy (PharmD)

5 Years after Class 12
3 Years after graduation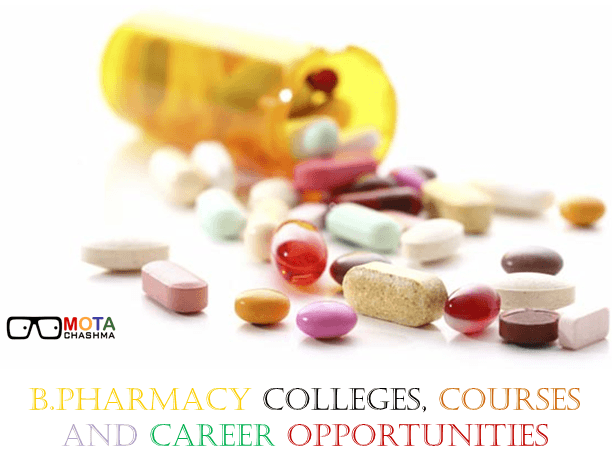 B Pharma - Eligibility Criteria
For DPharm, BPharm, PharmD : Candidates must have completed 12 years of Formal Education at the school level with science subjects.
For MPharm, MS Pharm, M Tech Pharm degree: Students holding a B.Pharm degree are eligible to pursue M.Pharm Degree Course.
For Pharm D: Students can enroll for this course after 10 + 2 or Post – Baccalaureate, If admission is taken after Class 12 then it a 5 years course and if after graduation the duration of the course is reduced to 3 years.


B.Pharma Course Details


DPharm: They require a minimum of 2 years of didactic studies related to the course followed by 500 hours of required practical training which is expected to be completed within 3 months in either a hospital or community setting. To practice as a pharmacist in India, one needs at least a diploma in pharmacy.
In case of PharmD- 5 years will be the academic session and final year is completely bound to the internship in a hospital. Candidates can seek admission in this course after Class 12 or Post – Baccalaureate, in which case the duration of the course would be reduced to 3 years. Pharma D. Program was started in the year 2008. It is a pre-PhD, post-graduate professional doctoral program. It is the only pharmacy service which is in direct contact with patient health care system.
BPharm: It involves 4 years of didactic study in colleges affiliated with universities or in a university department.


B.Pharma Admission Criteria


The entry requirements for pharmacy programs are not the same across and within states and most significantly, between private and public institutions.
The majority of privately funded institutions do not have direct formal application processes. There is

no centralized Test

that is being conducted to offer admission at the undergraduate level but for admission in post graduate pharmacy courses AICTE conducts all India Graduate Pharmacy Aptitude Test (GPAT)
For DPharm Program: Admission to the first year DPharm program in any government college is based on performance on the higher secondary examination. However, private colleges have their own admission procedures that comply with the education regulations of the PCI.
For BPharm Program: Admission to the first-year BPharm program is made directly from higher secondary school on the basis of marks obtained in the higher secondary examination or on the basis of a merit list rank prepared based on scores on an entrance examination administered by a state or individual institution.
For MPharm Program: For admission to Pharmacy graduates into the Masters, AICTE conducts a national level entrance exam Graduate Pharmacy Aptitude Test (GPAT). GPAT results are also used to determine eligibility of students for scholarships and other financial assistance in the field of Pharmacy


B.Pharma Career Opportunities


DPharm: Pharmacists with a DPharm degree have the opportunity to join a hospital or community pharmacy. The majority of diploma-trained pharmacists choose to work in government hospitals rather than private hospitals or pharmacies. They are also considered for placements in the pharmaceutical industry.
BPhram: Pharmacists with a BPharm degree have the opportunity to work with the thriving pharmaceutical industries in which services are well defined and industrial pharmacists are well remunerated. They also have the opportunity to be appointed to drug regulatory agencies or quality control laboratories by the state or central government.
Other career option available both in India as well as abroad in the following areas:
Production and manufacturing
Hospital and community pharmacy
Analysis and testing
Marketing
Documentation, drug information services and pharma journalism
Research and development
Regulatory affairs
Consultancy and academics
Higher Education Perspectives

MPhram
MBA in Pharmaceutical Management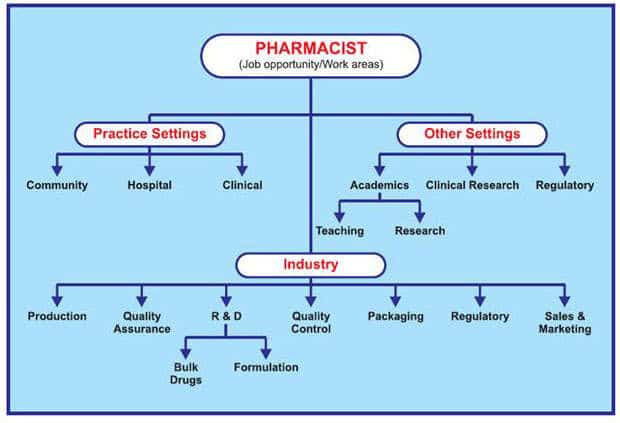 Pharmacy Colleges in India


As per the official list released by Pharmacy Council of India, 596 institutions have got approval to award diplomas and other 61 institutions can offer the courses only. Moreover, 460 colleges have got approval for awarding degrees and 331 additional for only conducting the course. Not only this but also the 68 institutes have been offered approval for both Pharm.D and Pharm.D (Post Baccalaureate) courses.
Top Pharmacy Colleges in India
NIPER, Mohali
University Institute of Pharmaceutical Sciences, Punjab University
Manipal College of Pharmaceutical Sciences, Manipal
Bombay College of Pharmacy, Kalina, Mumbai
JSS College of Pharmacy, Ooty
University College of Pharmaceutical Sci, Kakatiya University, Warangal
L.M. College of Pharmacy, Ahmedabad
Department of Pharmaceutical Sci, Dr. H.S. Gour University, Sagar, MP
Institute of Chemical Technology (ICT), Mumbai (erstwhile UDCT)
Pharmacy Group, BITS, Pilani


Statewise Pharm Colleges in India offering UG Courses


There are in all 1061 B.Pharmacy colleges in India which offer Undergraduate Course in Pharmacy. Maximum of these colleges is located in Andhra Pradesh, Telangana Maharashtra, and Uttar Pradesh.
| | |
| --- | --- |
| State/Union Territories | No. of B.Pharmacy Colleges |
| Andaman and Nicobar Islands | NIL |
| Andhra Pradesh | 126 |
| Arunachal Pradesh | NIL |
| Assam | 3 |
| Bihar | 5 |
| Chandigarh | 1 |
| Chhattisgarh | 13 |
| Dadra and Nagar Haveli | NIL |
| Daman and Diu | NIL |
| Delhi | 3 |
| Goa | 2 |
| Gujarat | 73 |
| Haryana | 33 |
| Himachal Pradesh | 17 |
| Jammu and Kashmir | NIL |
| Jharkhand | 1 |
| Karnataka | 61 |
| Kerala | 43 |
| Lakshadweep | NIL |
| Madhya Pradesh | 83 |
| Maharashtra | 167 |
| Manipur | NIL |
| Meghalaya | NIL |
| Mizoram | 1 |
| Nagaland | NIL |
| Orissa | 17 |
| Puducherry | 1 |
| Punjab | 35 |
| Rajasthan | 33 |
| Sikkim | 2 |
| Tamil Nadu | 40 |
| Telangana | 162 |
| Tripura | 1 |
| Uttar Pradesh | 110 |
| Uttarakhand | 15 |
| West Bengal | 13 |
For any other details related to B.Pharm Colleges, B.Pharma Course, Top Pharmacy Colleges in India, write us in the comment section below.