India receives sun shine over 300 days a year which is most of the time. About 5,000 trillion kWh per year energy is incident over India's land area. Theoretically, a small fraction of the total incident solar energy (if captured effectively) can meet the entire country's power requirements.

Effects of Global Warming
With effects of global warming growing evident day by day and its consequences like floods, typhoons and other climatic change the solar power provides a green way to remain on the path of growth and still saving the mother earth from getting hotter to a stage where all water will evaporate.
Dependence of India on Renewable sources of Energy
As a developing nation with vast population and limited reserves of fossil fuels, India is dependent on imports of oil, gas and coal from foreign countries like Australia, Malaysia, South Africa and others. India imports more than 50% of its fossil fuel requirement every year leading to heavy outflow of foreign currency out of India which leads to devaluation of our Indian rupee. The renewable energy especially solar provides a very good alternative to India's requirement as well as paves the path for greener and more sustainable future.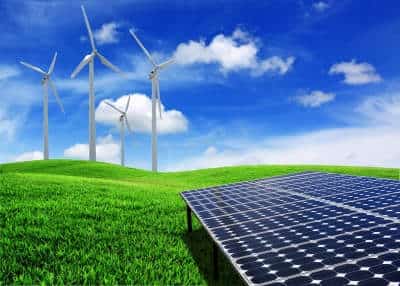 Why India should use Solar Power for its Energy Requirements?.
The box below is a snapshot of some of the important factor that why India should chose solar power.
Key Drivers for the use of Solar Powers for Energy Requirement in India:
Energy Deficit- Energy Deficit of 12% of peak demand
Likely Increase in Energy Demand in Future: If India continues to grow at an average rate of 8% for the next 10 years, the country's demand for power is likely to soar to 315 to 335 GW by 2017 which will require a generation capacity of 415 to 440 GW (McKinsey Report)
Dependence on Non- Renewable Sources of Energy: About 68.1% of India's energy generation capacity is from fossil fuels with coal accounting for 58% of India's total energy consumption (Central Electricity Authority)
High dependence on imports for energy requirement , total imports represents 13% of the total primary energy supply ( Energy Statistics Report 2013)
Rising price of electricity based on coal and gas
Environmental concerns

How Solar Energy fits in to solve the problem:
High Solar Irradiation (annual average GHI of5.1) in most of the parts of country
Large number of sunny days available (apprx. 330 )
Availability of large area of land at comparatively low costs.
High solar potential near main load areas in country. (Western and Southern India)
Support from Government under NAPCC and Renewable Purchase Obligation (RPOs).
In parity with other resources of energy generation with costs still going down.
Can be used both for centralised power generation capacity addition as well as off grid for decentralised use of energy.
One of the biggest USP of solar power is that it can generate electricity as well as can directly be used as source of heat. The solar energy is harnessed basically by two methods depending on the technology.
Photo Voltaic

Concentrated Solar Power

Technology Principal

Uses the light of the sun to generate electricity

Focuses the heat of the sun to generate heat and uses liquids to transfer heat to turbines to generate electricity

Time taken to build

Plant can be commissioned within
3-6 months

Plant commissioning anywhere from
6-36 months

Types

Fresnel
Parabolic Trough
Sterling
Tower

Storage

Indirect – Grid, Battery Banks

Direct – Molten Salt, Oil, Steam

Application

Small to large scale Grid, Rooftops, Residential, Off-grid, Small installations

Hybrids, Large Scale Grid, Industrial Processes, Cooking, CHP

Advantages

Easy to deploy, short installation time, low skill requirements, easily maintainable, Lower costs, Minute installations, Ubiquitous and long life

Efficiency higher than PV, Improve efficiencies of existing systems

Disadvantages

Low efficiencies, Expensive direct storage, Unviable for domestic use.

Significant water requirement for cooling and cleaning, Needs vast tracts of contiguous land, High DNI requirement, Specialized skills, High raw material usage, Lengthy Installations for large scale projects
Solar Power – As a career Option
Simple yet solar power provides a wide array of career options for thriving green citizens
Research and Development:

R&D of new solar technology is an upcoming field, institutes like IIT-Mumbai and IIT-Delhi are offering special Masters Courses in Solar Energy and to pursue these Masters courses a good understanding of Chemistry, Physics, and Electronics is required at the Graduate level.

Operation and Maintenance

: Thousands of Engineers and ITI diploma holders with background in Electrical and Electronics will be required in next 10 years for providing O&M services to solar power plants so this area too holds great opportunity for making a career.

Business Development:

Solar market is in its initial stages and a lot of skilled professionals in all sectors from HR to marketing will be hired by Solar Power Producing companies and other service providers. So there is a huge scope for professional in business development for expanding the reach of the Solar Power Producing Companies in near future.