Lalita Prasida Sripada Srisai, a teenager girl of Class 9 in DPS Damanjodi in Koratpur district of Odisha has made India proud by winning the 'Community Impact Award' at the prestigious Google Science Fair in California on September 22, 2015. Lalita invented a low cost bio-absorbent based water purifier which mainly functions on waste corn cobs.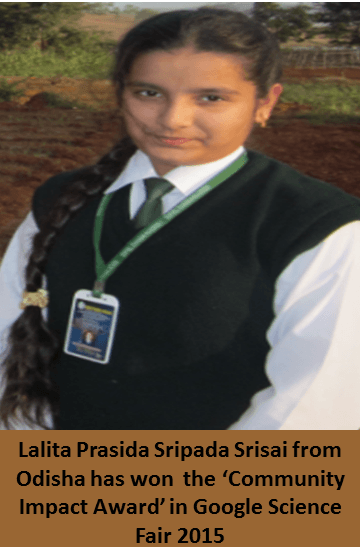 The Corn cob is a very important agricultural waste and is the least utilized part of the maize plant. Being rich in mechanical strength, rigidity and porosity, corn cob is a suitable absorbent. This enables contaminants like oxides of salts, detergent, suspended particles, coloured dyes, oil and grease to be absorbed in the surface of the corn cobs. Some of the heavy metals are also absorbed.
As per the report published about her project on the Google Science Fair website, "If the drain pipe of the household is connected to a chamber having different layers of corn cobs in partition layers or to an S-trap pipe having corn cobs, it will separate about more than 70-80 % of contaminants including suspended particles from the waste water."
A new market for corn cobs will be established when this cheap and eco-friendly way of purifying water will come in the society. Otherwise corn cobs are simply considered as bio-waste.
What did Lalita did? To conduct the experiments she collected cobs from a nearby farm and kept them in sun for a month so that they become dry. To create a hole in the centre of one cob, firstly the pith was removed thereafter 50 ml of domestic effluent collected from a kitchen drain pipe was poured in it. The collected filtrate received from it was testified for purity.
On successful completion of the Pilot Stage, water in which there were several chemical impurities was passed through five bottles, each containing a different layer for purification. These layers had long pieces of corn cobs, small pieces of corn cobs, powdered corn cobs, activated charcoal made from corn cobs and fine sand.
In observation it was found that the charcoal layer has had absorb most of the coloured substances present in the water. On the other hand the chaff layers of both long and small pieces of corn cobs absorbed the suspended particles. The gasoline waste was absorbed by the powdered corn cob layer.
Further Lalita's teacher, Pallabi Mahapatro was of the view that the technique can be used for stopping the contaminants in domestic and industrial effluents, in ponds, reservoirs and water tanks.
The Principal of DPS Damanjodi, Trinath Prasad Padhi, reveals that "Lalita is also very proficient in co-curricular activities like song and dance. She is set to receive a grand welcome on her return to school through a major function."