CBSE - OTBA Analysis for Class 9 2014 - 15 (English)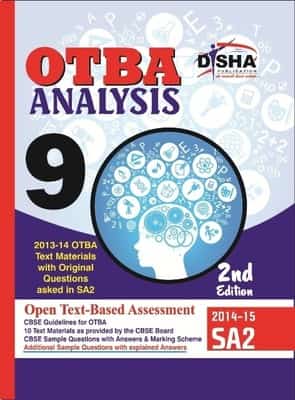 Price Comparison: Click to BUY
Note: Prices do not include Shipping Charges, this may vary across retailers.
Book Summary and Content
The OTBA book for Class 9 by Disha Publications provides indepth analysis for following subjects:
Science
Maths
Social Science
English
Hindi
The Book has an analysis framework and each material is presented according to that framework and it includes the following:
Facts & Figures with the main issue/problem
The Challenges because of which the problem exists.
The opportunities that exists.
Solutions to the problem or meet the challenges.
A lot of thought provoking questions have been designed with higher order thinking skills (HOTS) which will require students to apply to the situations given in the article or case study.The Book also contains additional Question with answers for students to practise.
This book ncan be helpful for the students to score better marks in SA-2
Subscribe for Regular Updates
Scholarships - Deadline Approaching
Last Date:Apr 23, 2018

Last Date:Apr 23, 2018

Last Date:Apr 27, 2018

Last Date:Apr 28, 2018