Mental Ability for NTSE Stage I- NTSE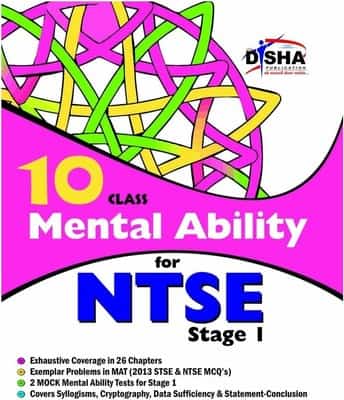 Price Comparison: Click to BUY
Note: Prices do not include Shipping Charges, this may vary across retailers.
Book Summary and Content
This book provides understanding of all the concepts covered by the syllabus of NTSE examination for MAT. The book helps the aspirant not only in building their Aptitude but will also lead them to brilliantly develop their analytical skills.
Mental Ability for NTSE Stage I for Class 10 by Disha Publication is a comprehensive book for class 10 students aspiring to excel in NTSE test conducted by the NCERT. The book sticks to the latest syllabus strictly prescribed by the NCERT and helps students work on their mental ability skills. The book presents point-wise information, helping students to assimilate and understand the subject so that they can learn them for long time. The next section contains tables, diagrams and maps, helping aspirants take their thinking ability to a new height. Next, this book contains two Practice sets paper, helping students to hone their skills. The book is strongly recommended for all NTSE aspirants.
Disha Publications is one of the count on publishers of India, publishing textbooks and study materials for senior secondary, High school, Medical entrance examination, JEE and other competitive exams conducted throughout the country.
Table of Contents
Series
Alphabet Test
Classification
Analogy
Coding-Decoding
Number and Ranking
Blood Relation
Mathematical Operations
Direction Sense
Venn Diagrams
Time and Clock
Missing Character
Non-Verbal Series
Non-Verbal Classification
Analogy (Non-Verbal)
Incomplete Figure
Water and Mirror Image
Cube and Dice
Paper Folding and Cutting
Embedded Figure
Puzzle Test
Figure Partition and Dot Situation
Syllogisms
Cryptography
Statement and Conclusion
Data Sufficiency Scholastic Aptitude Test
Exemplar Problems In MAT for State NTSE
Mock MAT 1
Mock MAT 2
Solutions to Mock MAT 1 and 2
Subscribe for Regular Updates
Scholarships - Deadline Approaching
Last Date:Mar 20, 2018

Last Date:Mar 23, 2018

Last Date:Mar 24, 2018

Last Date:Mar 27, 2018