A New Pattern Textbook of Organic Chemistry for Competitions (English) 16 Edition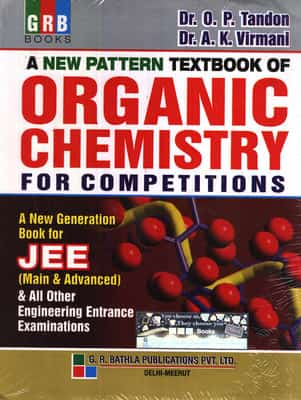 Price Comparison: Click to BUY
Note: Prices do not include Shipping Charges, this may vary across retailers.
Book Summary and Content
OP Tandon organic chemistry book is a comprehensive book for JEE mains and advanced exam aspirants. This book contains problems based upon Physical and chemical properties like structures, Polarity, E-value of organic compounds for aspirant. After then, there are chapters to help you in understanding organic chemistry concepts better. This book is essential and recommended for candidates applying for JEE main and JEE advanced exams & AIPMT.
Table of Content:
Introduction to Organic Chemistry
Molecular Analysis Of Organic Compounds
Classification and Nomenclature Of Organic Compounds
Isomerism
Mechanism Of Organic Reactions
Saturated Aliphatic Hydrocarbons
Unsaturated Hydrocarbons
Halogenated Aliphatic Hydrocarbons
Alcohols
Alkanols
Ethers
Aldehydes and Ketones
Carboxylic Acids
Acid Derivatives
Nitrogen Containing Compounds
Biomolecules
Aromatic Compounds
Organic Compounds in the Services of Mankind
Problems Based Upon Structure and Reactions of Organic Compounds
O.P. Tandon is an Indian author. He has penned down the Multiple choice questions in Human physiology basic and applied IVth Edition and has co-authored many books like 'A New Pattern Textbook of Physical Chemistry 'for Competitive examination point of view book: A New Generation Book for JEE advance and 'Manual of practical physiology'.
Subscribe for Regular Updates
Scholarships - Deadline Approaching
Last Date:Mar 17, 2018

Last Date:Mar 20, 2018

Last Date:Mar 23, 2018

Last Date:Mar 27, 2018