Textbook of Inorganic Chemistry JEE Main & JEE Advanced (English) 15th Edition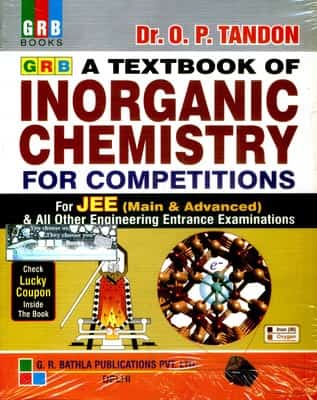 Price Comparison: Click to BUY
Note: Prices do not include Shipping Charges, this may vary across retailers.
Book Summary and Content
OP Tandon Inorganic Chemistry is a comprehensive book for JEE mains and advanced exam aspirants. This book contains problems based upon Physical and chemical properties like structures, Polarity, E-value of Inorganic compounds for aspirant. After then, there are chapters to help you in understanding Inorganic chemistry concepts better. This book is essential and recommended for candidates applying for JEE main and JEE advanced exams.
Table of Content:
Periodicity
Chemical Bonding
Acids and Bases
Extraction of Metals
Hydrogen
Alkali Metals & their properties
Alkali Earth Metals
Revision Exercise-2
The Boron Family
Elements of Group IVA or I4
Elements of Group V A or I5
Elements of Group VI A or I6
Elements of Group VII A or I7
The Elements of Zero Group
Revision Exercise-3
d-block Elements & f-block Elements
Coordination Compounds
Revision Exercise-4
Stoichiometry
Volumetric Analysis
Qualitative Inorganic Analysis
Revision Exercise-5
Environmental Chemistry
Short and Very Short Questions
Matching of Columns
Multiple Choice-A
Multiple Choice-B
Assertion-Reason Type
Thought Type Questions
Practice Papers (with Solutions)
O. P. Tandon is an Indian author. He has penned down the Multiple choice questions in Human physiology basic and applied IVth Edition and has co-authored many books like 'A New Pattern Textbook of Physical Chemistry 'for Competitive examination point of view book: A New Generation Book for JEE advanced and 'Manual of practical physiology'.
Subscribe for Regular Updates
Scholarships - Deadline Approaching
Last Date:Apr 23, 2018

Last Date:Apr 23, 2018

Last Date:Apr 27, 2018

Last Date:Apr 28, 2018