Lakshya NTSE for Class 10 (Study Material + Mock Papers + Motivational Book + CD) PB (English)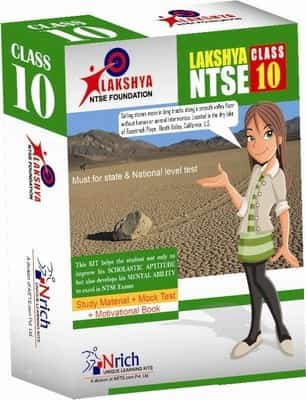 Price Comparison: Click to BUY
Note: Prices do not include Shipping Charges, this may vary across retailers.
Book Summary and Content
NTSE is one of the reputed exams in senior secondary level that determines the merit rankings and overall intellectual of not only aspirants among most brilliant students of India, but also the school at national level. Lakshya NTSE - 10 is a brief and comprehensive package to pilot you to prepare and ace in NTSE. The study package contains four booklets – one SAT and three MAT. The Mental ability test booklet has been divided into 26 Units. The scholastic ability module contains Biology, Chemistry and Physics in first module, then Mathematics in second module and then History, Geography and Civics in the third module
The package contains enough point-wise theory, solved illustrative examples followed by exercises in 2 levels with their hint towrads the end of the book. The problems are based on as per the latest syllabus of class 9 & 10 prescribed by NCERT strictly. The book also contains very similar questions to what have been asked in the past in NTSE, this package is one word recommended for aspirants preparing for NTSE.
Contents:
Lakshya NTSE-10: Study package consisting of 4 Booklets
3 of SAT & 1 of MAT
Test series consisting of 5 mock tests of MAT & SAT each
Free Copy of AIETS bestseller Toppers Secrets of Success
Free CD consisting of magical seminar.
Subscribe for Regular Updates
Scholarships - Deadline Approaching
Last Date:Mar 24, 2018

Last Date:Mar 25, 2018

Last Date:Mar 27, 2018

Last Date:Mar 28, 2018