Differential Calculus for JEE Main & Advanced (English) 7th Edition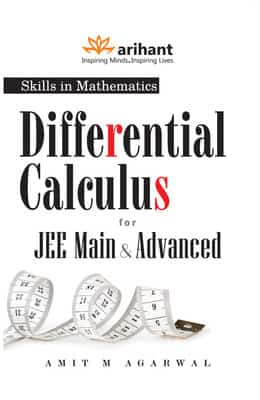 Price Comparison: Click to BUY
Note: Prices do not include Shipping Charges, this may vary across retailers.
Book Summary and Content
Amit Aggarwal's book is referred by most of the students preparing for IIT-JEE and other international Olympiads. Students refer it for 10+2 level exams like:
JEE Main
JEE Advanced
AIPMT & Other Medical entrance exams
International Olympiad and other exams
Arihant's Textbook of Differential Calculus for JEE Main & Advanced can be a very good choice for preparing the engineering entrance exams mathematics and excel it. The book is divided into multiple Units so as to give you a better understanding of the topics. The book covers entire JEE main and advanced syllabus without having anything irrelevant

In this book Chapters like Functions and ITF, Graphical Transformation, Monotonicity are explained and exercised based on them are presented very nicely. The book is quite fascinating and challenging for any brilliant mind of mathematics who loves mathematics and wish to excel in it. Must and Recommended for JEE preparations.Before the problems and exercises, theoretical concepts and formulas are briefed upon in elementary and lucid language. Recommended book for JEE and other engineering entrance exams.
Subscribe for Regular Updates
Scholarships - Deadline Approaching
Last Date:Apr 23, 2018

Last Date:Apr 23, 2018

Last Date:Apr 27, 2018

Last Date:Apr 28, 2018