Jawahar Navodaya Vidyalaya - Pravesh Pariksha 2015 (Class 6) : Navodaya Vidyalaya Samiti Dwara Sanchalit (Hindi)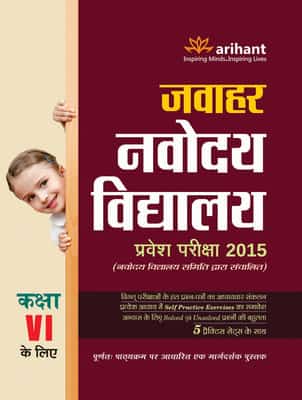 Price Comparison: Click to BUY
Note: Prices do not include Shipping Charges, this may vary across retailers.
Book Summary and Content
Jawahar Navodaya Vidyalaya Entrance Exam Book - Pravesh Pariksha 2015 (Class 6) : (9789351417484)
Arihant's published JNVEEfor class VI has been especially designed for the aspirants preparing for Jawahar Navodaya Vidylaya Entrance Exam (JNVEE) 2015 for admission to Class VI. This competitive entrance examination is conducted by the Navodaya Vidyalaya Samiti (NVS) for admission to Jawahar Navodaya Vidyalaya (JNV).
The present book has been divided into three parts - Mental Ability test sections, Mathematics and English Language Test, each divided into number of units following syllabus of Jawahar Navodaya Vidyalaya Entrance Examination. Each section contains numerous questions which have been designed on pattern of questions asked in the previous year's Jawahar Navodaya Vidyalaya Entrance Exam. Each problem has been solved in detail for deep root understanding of the subject on which the questions are based. Practice problems have been provided at the end of each unit for chapter-wise concept practice. Hints & brief solutions to the practice problems have also been given at the end of the chapter. Three practice papers have also been given at the end of the text to help aspirants practice like an actual examination and self-analyse their level of preparation for the upcoming test. This book contains ample study material and numerous practice problems, it will serve as an ideal study package for the preparation of upcoming Jawahar Navodaya Vidyalaya Entrance Exam.
Subscribe for Regular Updates
Scholarships - Deadline Approaching
Last Date:Apr 15, 2018

Last Date:Apr 15, 2018

Last Date:Apr 15, 2018

Last Date:Apr 15, 2018