A Textbook of Algebra for JEE Main & Advanced (Volume - 1) (English)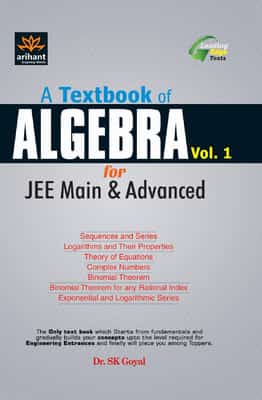 Price Comparison: Click to BUY
Note: Prices do not include Shipping Charges, this may vary across retailers.
Book Summary and Content
This book is preferred by most of the students preparing for IIT-JEE and other international Olympiads. Students refer it for 10+2 level exams like:
IIT-JEE
Medical Entrance Exams
Olympiad and other exams
Chapters like Quadratic Equations, Permutation and Combination, Series and Complex number have been explained and exercises based on them are really good.
Arihant's Textbook of Algebra for JEE Main and Advanced is divided into five different Units. The book offers wide coverage of the basic Algebra one needs for the JEE examination. It begins with the basic concepts, the book gradually rises on to score Complex Numbers, Series, Sequences, Permutations and Combinations and Theory of Equations. Before the problems and exercises are discussed, theoretical concepts and formulas are briefed upon in elementary and lucid language. Recommended for JEE and other engineering entrance exams.
Dr. S.K. Goyal is a well known Indian Author, He has written many famous textbooks like A Practice Book of Mathematics
Subscribe for Regular Updates
Scholarships - Deadline Approaching
Last Date:Mar 20, 2018

Last Date:Mar 23, 2018

Last Date:Mar 24, 2018

Last Date:Mar 27, 2018