Handbook on General Awareness 1st Edition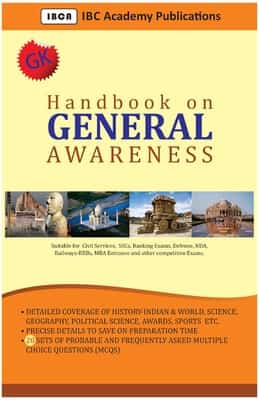 Price Comparison: Click to BUY
Note: Prices do not include Shipping Charges, this may vary across retailers.
Book Summary and Content
This book is one of those general knowledge books, which are not based on particular subjects and helps the students in increasing their general awareness and knowledge. This book is designed for students who are willing to score exceptional score in competitive exams. Around twenty sets of FQAs have been included in this book to increase the understanding of the students. Not just students, this book is also helpful for a general reader.
This book is cleaved into the following chapters:
General awareness
Sports, award, books & authors
Indian History
World History
Geography
Constitution and Indian Polity
General Science
Economics
Banking and finance
Abbreviations
Multiple Choice Questions
Practice papers, 20 sets & answers (1000 MCQs)
Subscribe for Regular Updates
Scholarships - Deadline Approaching
Last Date:Apr 21, 2018

Last Date:Apr 23, 2018

Last Date:Apr 23, 2018

Last Date:Apr 27, 2018