Public Speaking for Success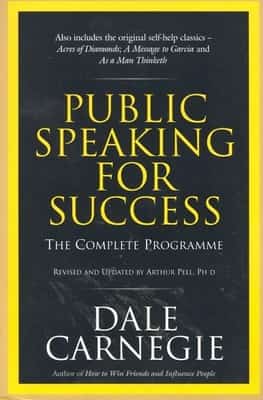 Price Comparison: Click to BUY
Note: Prices do not include Shipping Charges, this may vary across retailers.
Book Summary and Content
Public Speaking for Success is one of the best spoken English books. This book teaches the key elements of preparing and delivering a speech. It also teaches how to grab audience's attention and induce the listeners to agree with your message. It teaches you how to enhance your presentation the use of your body language. It also tells you how to conclude your talk and ensure your points have been made and will be remembered by the public.
This edition has been updated and revised according to the 21st Century. It incorporates all the developments and changes since it was actually written. It also contains examples of how popular orators made their speeches exceptional. Each chapter contains sections on speech building, list of frequently mispronounced words, errors in English, correct usage of words, voice exercises etc. offering practical, step-by-step and easy to follow guidance.
Subscribe for Regular Updates
Scholarships - Deadline Approaching
Last Date:Mar 17, 2018

Last Date:Mar 20, 2018

Last Date:Mar 23, 2018

Last Date:Mar 27, 2018