Word Power Made Easy New Revised & Expanded Edition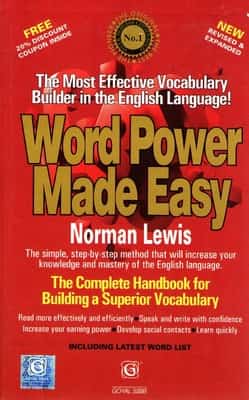 Price Comparison: Click to BUY
Note: Prices do not include Shipping Charges, this may vary across retailers.
Book Summary and Content
This English book starts by assisting the reader about the use of his vocabulary skills for the formation of words. This book explains how to construct vocabulary into useful words. Interesting themes are used in the book to show the use of words. It explains the derivation of the words under consideration. Once the word has been derived, similar words sharing the same meaning are evolved. This helps in remembering a lot of words.The book also contains sections regarding topics that can be understood by a specific group of people.
The book also contains punctuation keys, a skill of grammar tests and the history of evolution of grammar. The book helps in building proper spelling skills. It contains all the newly formed words. This book is essential for construction of good vocabulary, pronunciation, spellings and proper usage of words.
Subscribe for Regular Updates
Scholarships - Deadline Approaching
Last Date:Mar 16, 2018

Last Date:Mar 17, 2018

Last Date:Mar 20, 2018

Last Date:Mar 23, 2018