The GREEN Olympiad and TERRAQUIZ (Volume 4) English)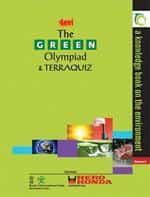 Price Comparison: Click to BUY
Note: Prices do not include Shipping Charges, this may vary across retailers.
Book Summary and Content
The book is desgined by keeping The Green Olympiad in Mind. Green olympiad is an objective-type examination which relates with questions from all aspects of environment. In this book questions are based around issues such as pollution, natural resources, sustainable development, etc. The book has a well-researched question bankhaving unique nature. The book will provide help to students in preparing for GREEN Olympiad. This book is available in 6 volumes, and their aim is to develop students' ability to think critically on crucial environmental issues.
Subscribe for Regular Updates
Scholarships - Deadline Approaching
Last Date:Apr 15, 2018

Last Date:Apr 15, 2018

Last Date:Apr 15, 2018

Last Date:Apr 15, 2018