Jawahar Navodaya Vidyalaya Exam (Class 9) (Hindi)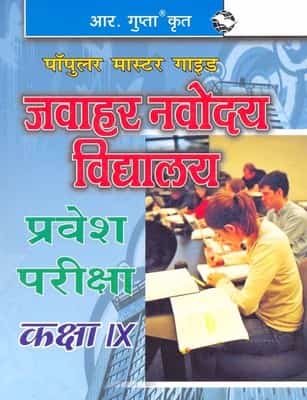 Price Comparison: Click to BUY
Note: Prices do not include Shipping Charges, this may vary across retailers.
Book Summary and Content
Jawahar Navodaya Vidyalaya Entrance Exam Book for Class 9 in Hindi (9788178126586)
Author: R. Gupta (Language: Hindi)
This textbook is especially developed for the aspirants of Jawahar Navodaya Vidyalaya (Class IX) Exam for the purpose of preparation and practice of questions based on the latest pattern of the examination. Past Years test papers have been provided in the first section with detailed solution. Detailed Explanatory Answers have also been provided for the selected questions for Better Understanding of the student. This book is recommended for aspirants appearing for the JNV entrance exams and willing to excel. All problems have detailed answers and solutions to teach the right methodology.
Topics best covered in Gupta's book are Reasoning ability and General Intelligence.
The book follows the syllabi prescribed by following boards.
TABLE OF CONTENTS
Previous Paper (Solved) 2014
Nursing Related Knowledge
English Language
Comprehension
General Intelligence
Reasoning Ability
Arithmetical
Numerical Ability
General Awareness
Hindi Bhasha evam Avtaran
The publishers are Ramesh Publishing House.
Subscribe for Regular Updates
Scholarships - Deadline Approaching
Last Date:Apr 27, 2018

Last Date:Apr 28, 2018

Last Date:Apr 28, 2018

Last Date:Apr 30, 2018