NCERT Chemistry (Class 12) (Part - I) (English) 01 Edition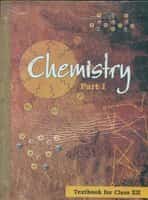 Price Comparison: Click to BUY
Note: Prices do not include Shipping Charges, this may vary across retailers.
Book Summary and Content
NCERT Chemistry (Class 12 Part – I) is a Chemistry textbook for Class 12 which is self-contained and broadly covers fundamental concepts of Chemistry. It is considered as the official book by examination authorities of CBSE and deals with the curriculum according to the CBSE board's directives.The syllabus provides logical sequencing of the 'Units' of the subject matter with proper placement of concepts with their linkages for better understanding. The book is known for its Inorganic chapters where all the needed stuffs for scoring in boards and JEE mains are there in very few pages. The book is prescribed and strongly recommended for the preparations of board exams. It provides you an understanding of basic course structure of chemistry required for JEE Main.
Table of Contents
The Solid State
Solutions
Electrochemistry
Chemical Kinetics
Surface Chemistry
Process of Isolation of Elements
The p-block Elements
The d- and f-block Elements
Coordination Compounds
Haloalkanes & Haloarenes
Alcohols,Phenols & Ethers
Aldehydes,Ketons & Carboxylic Acids
Amines
Biomolecules
Polymers
Chemistry in Everyday Life
The NCERTis an educational authority in India which also acts as a guiding body for the Central and State Governments in making decisions regarding academics.
NCERT publishes textbooks for school for class I to class XII that are used in all the schools adhering to the CBSE syllabus.
Subscribe for Regular Updates
Scholarships - Deadline Approaching
Last Date:Apr 17, 2018

Last Date:Apr 20, 2018

Last Date:Apr 23, 2018

Last Date:Apr 23, 2018