Fundamentals of Physics : A Must-Have Resource Book CBSE JEE and NEET-UG Syllabi (Class - 11) (English)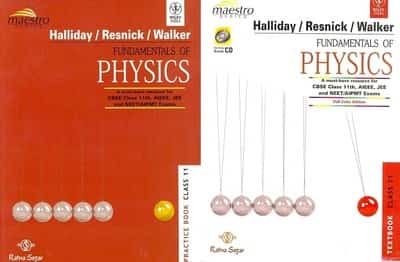 Price Comparison: Click to BUY
Note: Prices do not include Shipping Charges, this may vary across retailers.
Book Summary and Content
(Halliday, Resnick) Fundamentals of Physics for Class XI
This is an adapter version of the Bestseller book Fundamentals of Physics by Halliday, Resnick and Walker which is structured completely as per CBSE syllabi and the layout is being prepared keeping in mind all the requirements of Class 11 students. It is developed with a skill-based approach, this book aims to provide a root foundation in learning physics and question solving techniques.
The book offers a crystal clear and precise explanations of concepts while the questions helps to understand the applications of concepts while sharpening your problem-solving skills. This book is a must-have resource for CBSE students and those who are aspiring to enter the medical fields and engineering field through competitive examinations like AIPMT, JEE. The book is fairly recommended for preparation of JEE mains.
Table of Content:
Physical World and Measurement
Motion in a Straight Line
Motion in a Plane
Laws of Motion
Work, Energy and Power
Systems of Particles and Rotational Motion
Gravitation
Mechanical Properties of Solids
Mechanical Properties of Fluids
Thermal Properties of Matter
Thermodynamics
Kinetic Theory
Oscillations
Waves
Subscribe for Regular Updates
Scholarships - Deadline Approaching
Last Date:Mar 24, 2018

Last Date:Mar 25, 2018

Last Date:Mar 27, 2018

Last Date:Mar 28, 2018