Science for Everyone: Aptitude Test : Problems in Physics (English) 1st Edition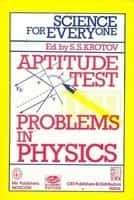 Price Comparison: Click to BUY
Note: Prices do not include Shipping Charges, this may vary across retailers.
Book Summary and Content
S.S.Krotov, Science for Everyone (Aptitude Test Problems in Physics)

The book is a question bank containing 250 problems in physics made for girls and boys from Moscow schools who were participating in Physics Olympiads during 1968 to 1985. Also the interesting and quite-unique problems from these examinations have been included with their solutions in this book. Intended for High school children and teachers of physics for understanding physics concepts, this book can also be used for preparation to excel in entrance examinations to the higher educational institutes like JEE, AIPMT where an advanced and root deep knowledge of physics is required. The book is recommended for JEE advance preparations.
After solving Irodov Problems you can try problems from this question bank but not before it. It is going to waste your lot of time and you will end up to read a single question and then need to sit aside exhausted and that is not a feature of a problem solving student. This is a common case of student solving this book but the good thing is that it has solutions given in end and your time will not go in vein and you will learn many new thing in physics that will help you to excel in entrance exams like JEE mains and Advanced.
Table of Contents
Preface
Mechanics
Heat and Molecular Physics
Electricity and Magnetism
Optics
Solutions
Subscribe for Regular Updates
Scholarships - Deadline Approaching
Last Date:Apr 21, 2018

Last Date:Apr 23, 2018

Last Date:Apr 23, 2018

Last Date:Apr 27, 2018