High School English Grammar & Composition 11th Edition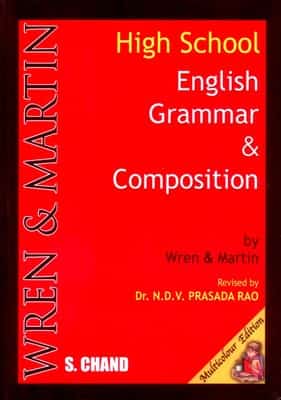 Price Comparison: Click to BUY
Note: Prices do not include Shipping Charges, this may vary across retailers.
Book Summary and Content
High School English Grammar & Composition 11th Edition is an English Grammar Book that explains usage of grammar, the formation of sentences & rules followed in English Language with different parts of speech. The new edition has been published in conformity to the language changes. Information about the forms of sentences accepted worldwide is included in the book. The book now contains colourful illustration for better understanding. The book contains two extensions namely American English and a new set of grammar tests.
The following topics are explained in the book:
Subject and Predict
Sentences
Phrases and clauses
Parts of speech
Noun and its kinds
The Adjective: Its usage and position
Articles
Pronouns and its types
Verbs
Active and passive voices
Mood
Tenses: past, present and future
Infinitives
Gerunds
Participles
Irregular verbs
Modals and auxiliaries
Adverbs
Prepositions
Conjunctions
Interjections
Parts of speech
Subscribe for Regular Updates
Scholarships - Deadline Approaching
Last Date:Apr 16, 2018

Last Date:Apr 17, 2018

Last Date:Apr 20, 2018

Last Date:Apr 23, 2018