National Geographic Complete Photography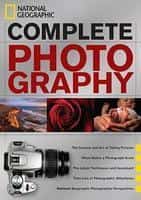 Price Comparison: Click to BUY
Note: Prices do not include Shipping Charges, this may vary across retailers.
Book Summary and Content
This book guides the reader about the photography basics. This book provides useful tips on how to take a photograph and look at it. It also explains the working of cameras, photographs and photographers. Works of the National Geographic photographers are included in the book.
The book comprises of chapters on camera basics such as how a digital camera works, what different lenses do and the definition of exposure. The book also explains advanced techniques such as taking the best family candid's, underwater photography and capturing fireworks on film.
Every chapter includes a section "My Perspective" emphasizing the work of a National Geographic photographer along with a personal note on photography. At the end of each chapter, "What Makes This Photograph Great?" feature has been included with twelve ideal National Geographic photographs that are scrutinized on the basis of their subject matter, composition, lighting and exposure by James P. Blaire.
Subscribe for Regular Updates
Scholarships - Deadline Approaching
Last Date:May 19, 2018

Last Date:May 19, 2018

Last Date:May 27, 2018

Last Date:May 31, 2018