The Quick & Easy Way To Effective Speaking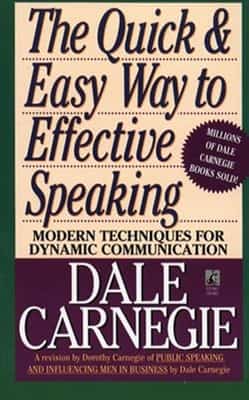 Price Comparison: Click to BUY
Note: Prices do not include Shipping Charges, this may vary across retailers.
Book Summary and Content
The Quick and Easy Way to Effective Speaking is a well-known English speaking book. It aims at improving the reader's communication skills and help them put their thoughts confidently. The book has been divided into three parts.
Fundamentals of Effective speaking is the first part of the book. This part helps the reader to brush up their communication skills and Increase their level of confidence. Techniques used to inculcate these skills are learning from other people's experiences, focussing on goals and awareness regarding the subjects being dealt with.
Speech is the second part of the book. It talks about being focussed on a subject so as to retain the interest of the audience. Anecdotes and stories are also included in the book for better understanding of the readers. Third part of the book is known as Speaker and audience. It deals with unrehearsed talks. It helps the reader to master the unprepared speech by teaching about a friendly beginning to the conversation and about arranging thoughts into a sequential manner. It also deals with the general art of communication and how to overcome the barriers of communication.
The final part of the book is the art of communication and the challenges of effective speaking. The book is basically based at building self-confidence, courage and zest of the speakers so that they can communicate clearly and efficiently.
Subscribe for Regular Updates
Scholarships - Deadline Approaching
Last Date:Mar 17, 2018

Last Date:Mar 20, 2018

Last Date:Mar 23, 2018

Last Date:Mar 27, 2018