Concise Oxford English Dictionary (Book & CD-ROM set) 12th Edition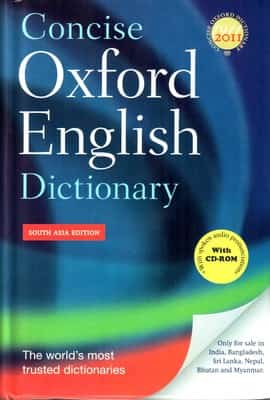 Price Comparison: Click to BUY
Note: Prices do not include Shipping Charges, this may vary across retailers.
Book Summary and Content
Concise Oxford English Dictionary 12th Edition is basically used for referring to English spelling and Grammar in United States. Concise Oxford English Dictionary is the updated book with all the current words and their usage. It is the recommended reference book for International English. The book is concise as it does not go into the history of words. The book contains 2,40,000 entries and 1728 pages. It helps in quick reference to meanings and synonyms. The book also contains commonly used technical terms. The words are clearly explained with the help of illustrations. A CD-ROM set is also provided with the book. It is basically the electronic version of the book and includes audio pronunciation guides. It is a great source of information to make your existing vocabulary more fluent and inculcates a better understanding of the already known words.
Subscribe for Regular Updates
Scholarships - Deadline Approaching
Last Date:Feb 22, 2018

Last Date:Feb 22, 2018

Last Date:Feb 28, 2018

Last Date:Feb 28, 2018