Little Oxford English Dictionary 9th Edition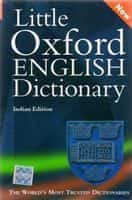 Price Comparison: Click to BUY
Note: Prices do not include Shipping Charges, this may vary across retailers.
Book Summary and Content
Little Oxford English Dictionary is an analysis of the words of real English in the New Oxford English Dictionary. It contains over 1,00,000 records. It provides the users with clear definitions. More than 450 in-boxed notes on spellings and usage are included in the book. It also includes in-text panels that provide help in grammar and construction of words. It also includes additional information like a list of frequently misspelled words, countries of the world and weights & measures.
Subscribe for Regular Updates
Scholarships - Deadline Approaching
Last Date:Feb 22, 2018

Last Date:Feb 22, 2018

Last Date:Feb 28, 2018

Last Date:Feb 28, 2018