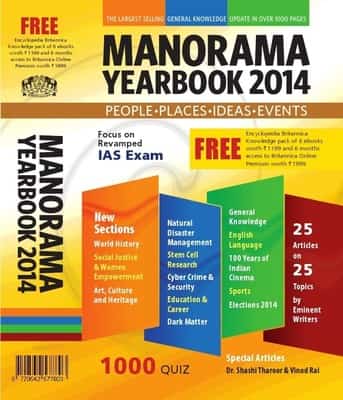 Price Comparison: Click to BUY
Note: Prices do not include Shipping Charges, this may vary across retailers.
Book Summary and Content
Manorama Year Book is the one of the greatest selling general knowledge books in the country since approximately half a century. It covers almost all the information which may be required by a student appearing for competitive examinations, a teacher and any researcher. Doubtlessly, Manorama Year Book is the most renowned book in the country and in the world. It contains all information regarding the science, literature, history of sports, educations, entertainment and many more. The 2014 year book is divided into the following sections:
World
India
Science
Information Technology
Current Affairs
General Knowledge
Sports
Culture
The book provides you with all the new information and depicts a stupendous world of statistics.
Subscribe for Regular Updates