The Central Board of Secondary Education (CBSE) has decided on giving 30 minutes of extra time for the open book exams to students of Class 9 & 11 in the March 2014 final exams. CBSE has introduced The Open Text Based Assessment (OTBA) as a section within the main question paper. The OTBA will be an addition to the last years' question paper pattern.
Download OTBA Material for Class 9 & 11 for 2015 for SA 2 & final Exam to be held in March 2015
The CBSE, Director Sadhana Parashar wrote to schools stating that the OTBA will be in addition to the usual questions set for three hours. Schools are directed to give 3 - 3 1/2hours to students in each subjects where open text based assessment is introduced. This time is in addition to the 15 minutes given to read the question paper.
OTBA will be conducted only for students of Class 9 &11 as a part of the final exams in March. For students of Class 9 the OTBA material has been released for main subjects like English, Hindi, Mathematics, Science and Social Science. For students of Class 11, the text material is for Geography, Economics and Biology. OTBA is applicable only to these subjects this year.
The text material is given months in advance. Students will be allowed to refer to it while doing their exams. The Central Board of Secondary Education has ensured that this process does not dilute the process of conducting an exam. The board also stated that it has reworked the marks distribution to accommodate OTBA scores in the main subject marks itself. The question paper in the main subjects at SA-II will be for 90 marks (in English, of 70 marks + 20 marks for assessment of speaking and listening skills). This is based on the syllabus and question paper design.
Oswaal CBSE CCE Question Bank with Complete Solutions for Class 9 Term 2 (October to March 2014) Open Text Based Assessment OTBA 1st Edition
Class 11 OTBA Material by CBSE
Circular by CBSE on OTBA- Dated December 10, 2013
CBSE released circular for class 11- Instructions to Schools & Teachers on conducting OTBA Exam in their schools
The question paper in each subject will have a section of 10 marks for OTBA, which will be made up of text material along with two or three questions based on the text. The questions based on the text will be of HOTS which require students to apply to the situation given in the article/report/case study and they have to draw inferences/conclusions from. Questions will be open ended. Students have to estimate or conclude in relation to the question and justify their view point.
Other Important Aspects of OTBA

OTBA in Nutshell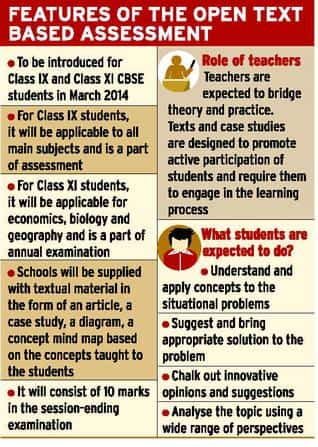 Related Link:
Check Out Entrance Exams after class 12
Check out Scholarships and Competitions for School Students
Participate in World'd Largest Art Contest- Prizes worth 6 Crores!